Arts
Audition for AU Ensembles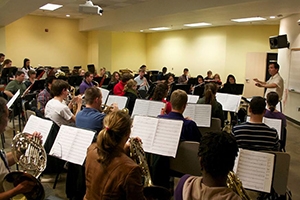 Everybody in the AU community is invited to audition between August 26–30 for AU's symphony orchestra, symphonic band, chamber players, chorus, chamber singers, jazz orchestra, and workshop. 
The Screamin' Eagles pep band, which is also seeking musicians, does not hold auditions. Prospective members of the pep band are asked to attend the band's first rehearsal. 
All AU students, undergraduate or graduate, regardless of major, as well as staff, faculty, alumni, and neighborhood residents, are welcome to audition for one or more of AU's musical ensembles. 
For details on each ensemble's audition procedure and contact information, see the Department of Performing Arts' audition website. Prospective ensemble members should contact the directors. 
If you're not a music major, don't let that stop you from auditioning. In fact, most ensemble members major in something other than music. For example, of the 60 musicians in the two groups directed by Marc Decker, a musician in residence in AU's Department of Performing Arts and director of both the Symphonic Band and the Screamin' Eagles pep band, only five intend to make music their careers. About a dozen are residents of the neighborhood. So about 40 students in the two groups Decker directs major in something other than music. 
For students, all ensembles are one-credit classes, and most rehearsals are held during the evening to avoid conflicts with jobs or classwork. Aside from class credit, there are other benefits to joining an ensemble, Decker says. If you're a freshman, it's a great way to make friends. And of course for any musician it's a great way to keep playing your instrument or continue singing.