Education
Making a Difference in the Field EPL Students Complete Consultancy Projects for DC-Based Education Organizations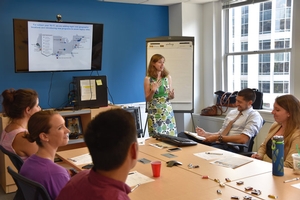 AU School of Education students are developing education policy and putting it into practice in the real world. During the summer of 2016, Education Policy and Leadership (EPL) graduate students completed seven consultancy projects for education organizations in Washington, DC, on real issues impacting education policy or practice. The organizations included the National Governors Association, the DC Public Charter School Board, New Leaders, Education Counsel, Jumpstart, and the DC State Board of Education.

"Our EPL students made a real difference for these organizations and learned what it takes to be successful in the education-organization setting," said Jason Snyder, EPL program director.

It's all part of Proseminar, an innovative program that integrates students into some of the most influential education organizations in the field. Working in small groups, students serve as consultants on a pressing issue of policy or practice. They apply skills developed through their program of study in education policy and leadership. In return, they learn approaches to project management, client relations, analytical design, and project presentation, as well as receive support for transitions into policy and leadership careers.

The Work
For each project, a team of three students worked closely with a site supervisor to research an issue and develop solutions based on their research findings and their organization's needs.

After completion, each team presented its findings to senior leaders in the organizations, including Scott Pearson, executive director of the DC Public Charter School Board; Laura Kadetsky, general counsel of New Leaders; and Bethany Little, a principal at Education Counsel and former chief education counsel to the Senate Health, Education, Labor, and Pensions Committee. The leaders, in turn, spoke to the entire class about pressing issues in the education field, as well as what it takes for a professional to be successful in the field.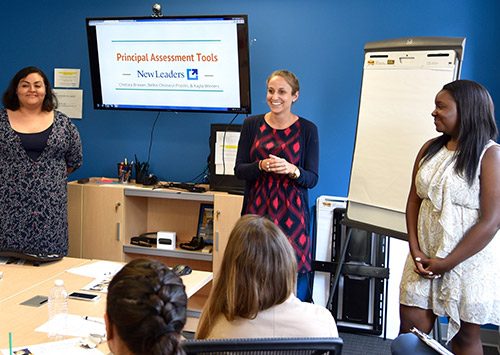 EPL students Chesea Brewer, Belkis Choiseul-Praslin, and Kayla Winters present their project findings to the senior leadership of New Leaders.
The Experience
The consultancy projects provided the students with a real-life, practical experience and a better understanding of the education sector. While working on their consultancy projects, students had an opportunity to apply the knowledge and skills they gained in their EPL courses. At the same time, they developed additional skills—including project management, client relations, and project presentation—through the connected EPL Proseminar.

"I used my experiences as a teacher, as well as the skills learned throughout the program, in order to make connections between district, state, and federal level educational initiatives," said one student.

The projects also exposed the Proseminar students to various education policy and leadership career pathways. "The project helped me connect and build relationships with a number of organizations that can open doors to future career paths," said one participant. Another student added, "Completing this long-term project was the best real-world project I've ever been assigned in school. The most valuable part of the class was attending each project's presentation and hearing about each organization."


EPL students Nico Amaro, Victoria Berdini, and Jenny Jin present their project findings to John-Paul Hayworth, Executive Director of the DC Board of Education.
Making a Difference
The projects also made a meaningful difference for the education organizations. The team working with the DC State Board of Education, for example, reviewed high school graduation requirements across all 50 states. Based on their findings, they proposed changes in DC's requirements. The recommendations were particularly timely and meaningful; the DC State Board of Education's Executive Director, John-Paul Hayworth, requested this project because the Board was in the middle of reviewing, and considering recommending revisions to, the District's requirements.

As another example, the team working with New Leaders helped develop and research evaluation tools for school leaders, focusing on meeting the particular needs of the organization's members. The work was both practical and evidence-based. After completing this project, one student concluded that "working with New Leaders allowed me to combine theory and practice in order to drive change in the field of education."