In the Community
Feeding India's Poorest During COVID-19 Lockdown Grad Student Hriyanka Nikhil Shah using data science for life-sustaining social impact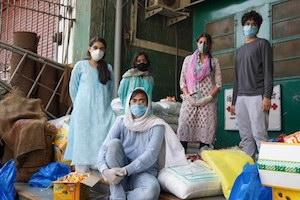 When Hriyanka Nikhil Shah (MS data science with an applied field of business analytics '21) flew home to Mumbai for spring break week, she had no idea that India would soon establish a stringent nationwide COVID-19 lockdown prohibiting residents from leaving their homes except to purchase essential items. Only one household member is allowed out at a time, from 11 am — 2 pm, and again from 4 — 5 pm, and they are only allowed to travel within a mile of their homes.
The past six weeks have been an adjustment for Shah, but she knows things are exponentially worse for the 50 - 60 million people living below the poverty line in her city, including the one million people living in the world's biggest slum of Dharavi, located in the heart of Mumbai.
Pulling together her data science background and her passion for social justice, Shah saw an opportunity to help. She and six friends, all under the age of 25, gathered together to launch "Youth Feed India" a nonprofit to help the city's most vulnerable residents survive the lockdown. All seven friends chose an area of expertise: Shah manages the data, and others handle the finances, digital marketing, communications, and more. At first, they focused on providing essential food and supplies to migrant workers and day wage laborers and their families. "We quickly realized it wasn't enough to just give people hot meals," Shah says. "They need relief kits with essentials like lentils, rice, sugar, cooking oil, soap, and detergent."
Youth Feed India got to work. They raised money, procured rations from local businesses (supporting the businesses in the process), and delivered the ration kits to other local NGOs that distributed the kits under the direction of local university officials. In all, Youth Feed India successfully completed its phase one of fundraising, raising enough money to put together and distribute 5,562 relief kits costing $7.15 each. Each kit fed a family of five for one week during the lockdown—in all, more than 30,000 people.
Youth Feed India has now started a new, even more ambitious phase two of fundraising and is already on track to meet its target. It will feed more than 10,000 people for three weeks, and distribution begins today. This time, the group is focusing on LGBT, HIV-positive, and sex worker communities who are especially vulnerable during this time.
Data = Transparency, Accountability, Fundraising Success
Shah says that one of the reasons that her organization has been so successful in fundraising is because they use data to show donors exactly where their money is going. "I've learned that donors really appreciate us because of our transparency and accountability, which many NGOs don't have here in India," says Shah, who added that her American University data science classes have given her the skills to code functions, create data visualizations, and find patterns in Youth Feed India's work.
"We are able to provide accountability and transparency in everything we do, and our data corroborate that!" she says. 
It's easier said than done. Shah has created two data models, one for each fundraising phase. The data shows funders how many kits are created, the cost of each, and exactly where they are delivered, including maps that illustrate the organization's reach and spread.
A Future in Social Justice
The organization is already being used as a model for other young people in five other Indian cities, says Shah. She is hoping to see future phases three, and four, five, and more.
But at the same time, Shah is focused on returning to her American University studies next semester to complete her degree so she can use data to bring about more social good. "Since I was seven years old," she says, "my dream was to work at the World Bank. I would love to work in development, focusing on hygiene issues in India. So thank you Dr. Wall [Jane Wall, senior professorial lecturer, Department of Mathematics and Statistics] for introducing me to the beauty of [programming language] R and helping me apply my very nascent skills in my chosen field."