Arts
AU Hosts Feminist Art History Conference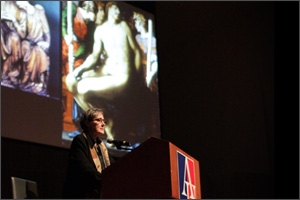 Four years ago, when Art History Professor Helen Langa and the Art Department's manager of visual resources, Kathe Albrecht, were part of the team that developed the first annual Feminist Art History Conference to explore the legacy of two pioneering feminist art historians, Norma Broude and Mary D. Garrard, professors emerita of art history at AU, they "wanted to gather people from around the area, maybe the country, to share papers on feminist art history," says Albrecht. "Programs around the country emphasize feminism in the study of art history, and we thought a conference would fill a need or be of interest. We started that first year thinking, hopefully we'll have a handful of speakers, maybe a handful of people in the audience, and it turned out that the first year we had 120 participants coming from around the country." Conference attendance has grown each year since then.  
This year, 180 people came from all over the world. Over 12 percent of conference pre- registrants were international and hailed from eight different countries. The selection committee, which was made up of professors in the art history program, reviewed over 150 papers to select the 68 speakers, portioning them into 16 topical sessions. "Feminist art history is being studied in every subfield," says Professor Juliet Bellow, a member of the selection committee. "We had papers that spanned a chronological range from the medieval period up through the present."  
Presenters ranged from graduate students to mid- and senior-level scholars, which included over 20 percent international representation. While the experience of the speakers varied, their level of scholarship was uniformly high. "When you think about the Renaissance, you think, well, everybody's written about it. That's just not the case," Albrecht says. "There's still a lot to be done in every period of art history, and a good art historian will figure out what the new and important questions are and will try to find out the answers."  
The conference offered an invaluable opportunity for students to network with established scholars and see the kind of careers they could pursue. "Great conversations occur over lunch or over a glass of wine at the reception," says Albrecht. "I've had people ask about connecting with speakers they've met at past conferences."  
Bellow required that her undergraduate students in her introduction to methodology in art history course attend the conference. "I told them I thought this would be really important to see—the kinds of ways art historians are putting these approaches into practice today," she says. "In class, we'll talk about their perceptions about the range of different papers and what that tells them about the relationship of feminist art history from its inception in the 1970s through the present." 
Program sessions were held on Friday afternoon and all day Saturday. On Sunday, a corollary event was held at the National Museum of Women in the Arts in Washington, D.C. Conference attendees were allowed free entry into the museum and to the American People, Black Light: Faith Ringgold's Paintings of the 1960s exhibition, as well as access to a talk by Eleanor Heartney, Nancy Princenthal, Helaine Posner, and Sue Scott on their new book, The Reckoning: Women Artists of the New Millennium.