Financial Exec Eric Leal Joins College of Arts and Sciences New Associate Dean for Budget and Administration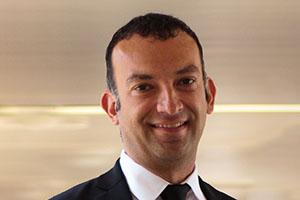 College of Arts and Sciences Dean Peter Starr has announced that veteran financial executive Eric Leal will be joining the College as its new associate dean for budget and administration. Leal replaces Gamze Zeytinci, who left American University in February for a position at Johns Hopkins University's School of Advanced International Studies. Leal starts at AU on April 15.
Leal has a wealth of financial management and strategic leadership experience in higher education. He is currently associate dean for administration and finance for the College of Medicine at Howard University. In that position, he has led efforts to improve the College's performance and accountability, directing all financial planning and resource allocation for the school's $80 million operating budget and directing administration of 200 staff and academic personnel.
Prior to Howard, Leal served as assistant dean of administration and finance for the School of Optometry at the University of California, Berkeley. In that role, he oversaw operations, strategic financial planning, and resource allocation for the school and 17 affiliated healthcare clinics serving 85,000 patients a year, managed a $35 million budget, led a team of 65 employees, and increased corporate fundraising by 40 percent in one year alone.
Earlier in his career, Leal served as interim CFO for the Department of Veterans Affairs in Vancouver and Seattle, Washington, providing fiscal oversight of a $2.3 billion budget. He created strategies to provide millions of dollars to the Portland, Oregon VA and reversed a massive deficit in the Boise, Idaho VA system.
Leal's leadership roles have included high-level financial management for the Department of the Air Force at both the Pentagon and in Las Vegas. He also served on active duty in the Air Force, ultimately being named deputy budget officer at Nellis Air Force Base in Nevada.
He received his BA in Psychology from the University of Arizona, Tucson, and his MBA from the University of Tennessee, Knoxville.
"Eric's leadership will help the College and University achieve their strategic ambitions at a time of increased financial restraint across higher education," said Starr.
Leal joins the College and AU as it embarks on an ambitious capital campaign to support student needs as well as the scholarship and faculty research for which American University is so rightly known.
"I'm sincerely appreciative of the opportunity to contribute to the College of Arts and Sciences and American University," Leal said. "I look forward to working with the community to advance the College in the years ahead."