Research
Undergrads Present at Gender and Foodways Conference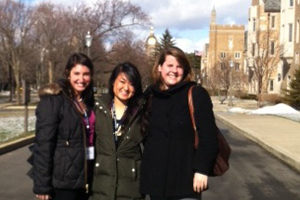 Each fall, American studies professor Katharina Vester teaches a class revolving around food, where she's able to pass along the knowledge she's gained from her research on the intersections of food, power, and identity in the U.S. The fall 2011 course, Food, Media and Culture, focused on how food pops up in our daily lives. "How we eat, what, where, when, and with whom determines our status in society," says Vester. "We learn this by consuming the stories that surround eating and cooking."
Vester asked her students to do original research on how food is represented in cookbooks, food memoirs, websites, films, or magazine articles for a class paper. But, as she does in most of her classes, she also gave her students the chance to present their research findings in an academic setting outside of AU. Students were encouraged to submit abstracts of their papers to the Food Networks: Gender and Foodways conference, which took place at the University of Notre Dame from January 26–28. "Vester's amazing," says Nicole Orphanides, history '12, a student who took her class last fall and also presented at the conference. "In every class, she finds an outside opportunity that pertains to the class."
Over the years, Vester has seen such great work come from her students, and she wants them to be able to share it with a broader audience via conferences, websites, or other forms of publication. "I thought it was unfortunate that I should be the only one to appreciate their work," she says. "Finding that their work has been taken seriously by others helps many of my students to establish a sense of self-worth as researchers and scholars. A few become inspired to try for graduate school or an academic career after that."
Abstracts from three of her students, Anina Heimann, history '12, Sharon Shih, international relations '12, and Orphanides, were accepted to the conference. A total of only seven undergrads nationwide were chosen to participate in the conference. The College and the Office of the Provost reimbursed each student's travel expenses. "This just shows how supportive the College is of its undergraduates," says Vester.
The three presented their papers as part of an undergraduate panel on the last day of the conference. "It was great to learn what it's like to be on the other side, getting questions instead of asking them," says Orphanides.
Heimann's paper, "Masculinity and Gender in the Culinary World," focused on how food personality Anthony Bourdain ascribed to traditional masculine roles in his writing, particularly in his first book, A Cook's Tour. Her topic dovetailed with her senior thesis on culinary history, where she's writing about Graham Kerr and "The Galloping Gourmet." "I'm going to include masculinity in my thesis, so it worked out especially well," says Heimann.
Shih used Portia de Rossi's memoir, Unbearable Lightness: A Story of Loss and Gain, to write her paper, "Food as the Enemy: Eating Disorders as a Reflection of 1990s Popular Culture." "Her story was very unique," Shih says of de Rossi, "because she was both a victim of popular culture in the sense that she had developed this eating disorder, but she was perpetrating that body image because she was an actress and model."
Orphanides studied the changes in Weight Watchers cookbooks over the last 40 years for her paper, "Weight Watchers through Time." "Back then, Weight Watchers was aimed at middle- and upper class white women," Orphanides explains. "Today, they're trying to be more inclusive of all genders, ethnicities, and classes."
The American Studies Program started an undergraduate e-journal, Food & Culture Journal, in which they publish the best papers from the many food courses that are offered through the department. Heimann, Shih, and Orphanides's papers will be included in the second issue, which will be published in April. The first issue can be read here.