Student Life
Food Matters: DC Ward 7 Shoppers Spin-to-Win for Better Health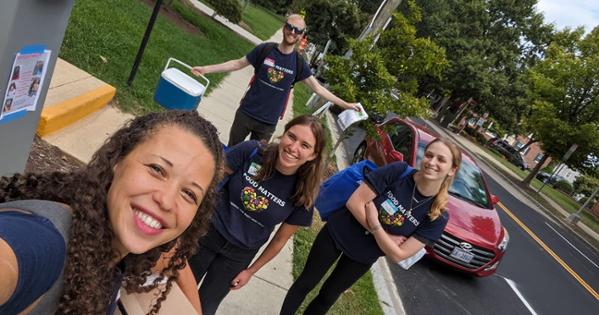 Have you ever gone to the grocery store in a rush, without a shopping list, and purchased impulse items you later regretted? Or wondered how much sugar is in those bright boxes of breakfast cereals? Do you know if "healthy" sports bars are actually healthy—or whether fresh fruits and vegetables are better than frozen ones? 
American University's Department of Health Studies understands the challenges facing consumers as they look for healthy and reasonably priced food. For six months, AU's Food Matters team has been working in Safeway supermarkets in Washington, DC's Ward 7 to help educate shoppers about making affordable and nutritional choices for themselves and their families. 
It's all part of a "Nourishing the Body and Soul SNAP Education" grant that AU received from the DC Department of Health in 2022. SNAP is a national program that provides food benefits to low-income families to supplement their grocery budgets so they can afford nutritious food. Within the District of Columbia, Ward 7 has the highest percentage of residents receiving SNAP benefits, and its residents face elevated rates of heart disease, cancer, diabetes, and essential hypertension, according to the DC Department of Health. Giving families access to high-quality, affordable, and nutritious food is critical to health outcomes in this neighborhood.
"Food, nutrition, and health are all linked," says Stacey Snelling, chair of AU's Department of Health Studies. "Our Food Matters team is working with shoppers to empower them with shopping tips paired with food preparation. With rising prices and reduced SNAP allotments, we want to support adults and families in buying and consuming the items that will keep them healthy and nourished."
SNAP Education for Better Health
AU's Food Matters team is composed of six students and alumni: Caroline Krekorian (BA public health '22), Jessica Yamamoto (MS nutrition education '17), Brooke Wayne (BS health promotion, MS nutrition education '23), Brogan Madden (BA public health, MS health promotion management '23), Sara Velcani (BS public health'25), and Robin McClave (MS health promotion management '09). McClave now works as an adjunct instructor in AU's Health Studies Department and serves as the research director for the American University Healthy Schools, Healthy Communities Program.
Brooke Wayne and Caroline Krekorian at Safeway
Every week, the team sets up a table at one of the two Ward 7 Safeway supermarkets. They greet shoppers, answer questions, hand out samples and coupons, and offer guidance on nutrition and budgeting. They also offer a more traditional weekly nutrition class at a nearby library. 
The program was so successful during its first year that the grant has been renewed for a second year.
One Shopper at a Time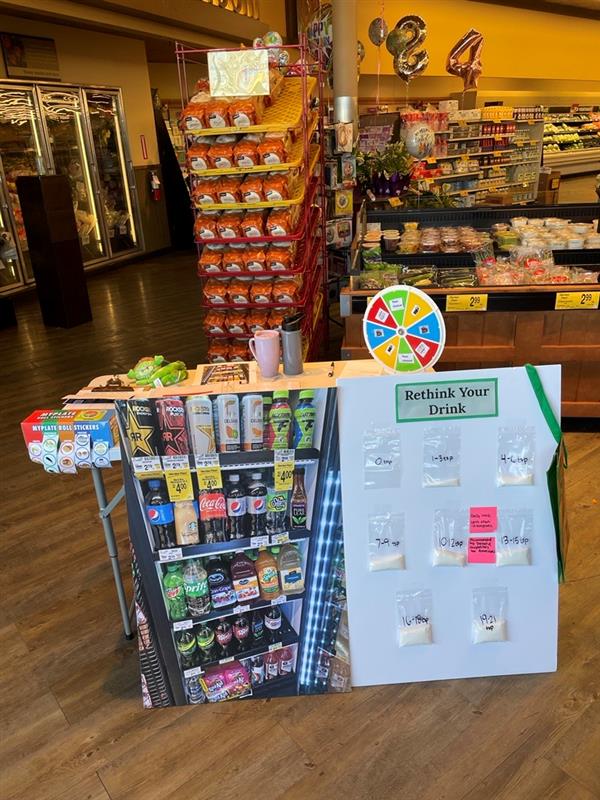 At the supermarkets, up to 80 shoppers come up to the Food Matters table each week. Most of them are focused on calories and fat, but the Food Matters team also stresses the importance of looking closely at food labels for other important nutritional markers like whole grains, fiber, and sugar. The team's free samples are popular, and very often, after shoppers taste fresh fruit or vegetables, they purchase them and bring them home. Sometimes they even come back to tell the team how much their families enjoyed their nutritious purchases. 
At the table, the team has a spin-to-win wheel, and shoppers spin to answer nutrition questions like, "How much sugar is in a beverage like iced tea or orange juice?" or "How do you get the largest nutritional bang for your buck?" Winners may receive mugs, water bottles, meal prep containers, cutting boards and large reusable grocery bags. 
The community fills out surveys and shares feedback, often expressing their appreciation. One man said, "I haven't seen something like this around here in a long time." During one of the final supermarket sessions, buyers said they would miss seeing the Food Matters table and could not wait for the program to start back up again. 
Classes: Nourishing Individuals and Families
Caroline Krekorian and Jessica Yamamoto at a nutrition class.
At a nearby Ward 7 library, the Food Matters team offers nutrition education classes with a curriculum based on the interests of the neighborhood residents: issues like SNAP benefits, budgeting, recipes, and shopping tips. Everyone takes an active role in the class, brainstorming and sharing healthy habits, strategies, and victories—including one notable moment when a participant shared how he lost enough weight to break through his 300-pound barrier. 
"This collaborative approach to learning created a nutrition-focused community collective, rather than disparate individuals out on a solo journey. Together, participants worked as a team with a joint goal of improved health," says Yamamoto. "The seeds planted within the classroom are spreading beyond our Food Matters community. Our class participants shared recipes and lessons with their community circles nourishing not only the individual but their family and friends."
Moving Forward
The year one outcomes are impressive. Not only did participants report increasing their consumption of fruits and vegetables, but they made advances in stretching food dollars, shopping with grocery lists, reading nutritional labels, following USDA guidelines, and adapting home-cooked meals using food items they had in their refrigerators. 
Reflecting on the first year, Yamamoto finds connections between nourishment and community. "When we learn how to best take control of our health journey and take care of our bodies, we find that our bodies in return take care of us. Now, when we take control and nourish our communities, our communities will not only take care of the individual, but such actions will spark waves that will ripple into a beautiful and brighter future one person, one class at a time. That is what makes every second of being a part of the Food Matters family meaningful and valuable for me personally."