Achievements
Fulbright and Book Prize for Professor Richard C. Sha A month filled with honors for professor of literature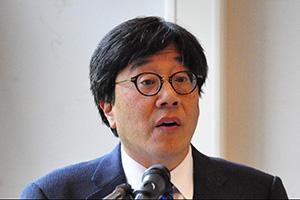 February was filled with prestigious honors and recognition for Professor of Literature Richard C. Sha. His latest book, Imagination and Science in Romanticism (Johns Hopkins University Press, 2018), was chosen by the International Conference on Romanticism as the winner of the Jean-Pierre Barricelli Prize for the year's best book in the field of Romanticism studies.
Sha has also been selected as a Fulbright Scholar to Italy for the 2019-20 academic year. He will teach a course on "Romanticism and Science" at the University of Bologna and research the Italian poet Leopardi for his upcoming book on emotion.
The Jean-Pierre Barricelli Prize
The Jean-Pierre Barricelli Prize recognizes exceptional, ground breaking work in the discipline. With Imagination and Science in Romanticism, Sha joins an illustrious list of former winners, including Paul Hamilton and Stephen Prickett of Great Britain, Ann Rigney of the Netherlands, Ian Balfour of Canada, and Susan Wolfson and Richard Eldridge of the United States.
"The Barricelli Prize is a big deal; the list of prior winners reads like a Who's Who of Romanticism studies," says David Pike, chair of American University's Department of Literature. "Richard has been at the forefront of his field for years, and it's wonderful to see him getting the recognition he deserves."
In Imagination and Science in Romanticism, Sha focuses on how scientists and artists understood the imagination during the Romantic period. Chapters cover everything from physiology and Coleridge, neurology and Blake, chemistry and physics and Percy Shelley, midwifery, and psychology and Mary Shelley. Sha shows how scientific understandings challenge critical humanist assumptions about the imagination. His work on the book was supported by a National Endowment for the Humanities (NEH) Fellowship in 2012–13.
"The Jean-Pierre Barricelli Prize is an international prize, and thus a tremendous and unexpected honor," Sha says. But his book was equally well received at home too, with rave reviews from fellow authors and academics. James Engell of Harvard writes, "Imagination and science in Romanticism are usually regarded separately. Sha brilliantly and convincingly demonstrates how closely they are, in fact, connected. It's Einstein, after all, who later said, 'Imagination is more important than knowledge.' Sha's book is impressive not only for its forceful conceptual argument but also for the detailed empirical research and historical interpretation on which that argument is so imaginatively built."
A Fulbright Scholar
The Fulbright Program, which aims to increase mutual understanding between the people of the United States and the people of other countries, is the flagship international educational exchange program sponsored by the US government. As a Fulbright Scholar to Italy for the 2019-20 academic year, Sha says he will split his time between teaching at the University of Bologna and researching his upcoming book on emotion.
"The Fulbright will allow me to teach at the oldest university in the world; Petrarch, Copernicus, and Galvani were former faculty members," he says. "It will also allow me to improve my Italian (and my knowledge of Italian wine), and to work on the Italian poet, Leopardi."
Sha will also be working on Modeling Emotion: Romanticism and Beyond, which will consider how scientific models and models of the self can shape our understanding of emotion, and the costs and benefits of this shaping.
A Scholar-Teacher
At AU, Sha has won the university's highest award, Scholar-Teacher of the Year, in 2012, as well as the University's Award for Outstanding Teaching in the General Education Program. He teaches courses on zombies and consciousness, the importance of ideals and theories, the emotions, and sexuality and literature.
Imagination and Science in Romanticism is the fourth book that Sha has written and/or edited, including Perverse Romanticism: Aesthetics and Sexuality in Britain, 1750-1832 (Johns Hopkins, 2009), The Visual and Verbal Sketch in British Romanticism (Penn, 1998), and Romanticism and the Emotions (Cambridge University Press, 2014, 2016 in paper).In addition, Sha's articles and reviews have appeared in Genre, Philological Quarterly, Configurations, Medical History, Nineteenth-Century Contexts, Isis, The Social History of Medicine, Metascience, European Romantic Review, Times Education Supplement, Nineteenth-Century Literature, and Cambridge Quarterly.
Sha has been invited to give talks on artificial insemination at UCLA; on the imagination at the National Library of Medicine, History of Medicine Seminar, Gabriel D'Annunzio University in Chieti, the Centro Interdisciplinare Studi Romantici in Bologna, Italy and the Keats-Shelley House in Rome; on Romantic Free Love at the Taking Liberties Conference at Newcastle, UK; on electrical materiality for the "Body Electric" Conference at the University of Maryland, College Park; and on science and the imagination at West Virginia University. In 2014 he gave the Ian Fletcher Memorial Lecture at Arizona State University on Romantic science. In 2015, was invited to Edinburgh to give a talk on William Blake and the Mark of Cognition, and two talks at the University of Toronto, one before the Institute for the History and Philosophy of Science.