Arts
AU Delivers Dramatic North American Premiere AU orchestra, chorus, chamber singers, guest soloists, and children's chorus perform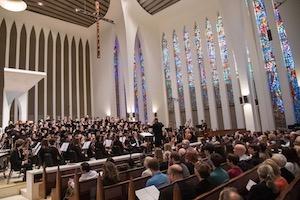 In one of American University's most ambitious musical performances, more than 200 artists took the stage yesterday in front of 800 audience members for the North American premiere of Arnold Saltzman's A Choral Symphony: Halevi. The combined forces of the AU Symphony Orchestra, Chorus, and Chamber Singers joined the Strathmore Children's Chorus and guest soloists mezzo-soprano Janice Meyerson and baritone Rob McGinness to perform the hour-long, six-movement choral symphony under the soaring stained-glass windows of the National Presbyterian Church. 
The performance was made possible by a generous gift from the Eugene M. Lang Foundation in celebration of the life of its founder, Eugene M. Lang.
"It was a wonder to watch more than 200 performers—students from across American University, faculty, and guest artists—breathe life into this work for its first North American performance," said Andrew Taylor, associate professor and chair of AU's Department of Performing Arts. "Having Rabbi Arnold Saltzman, the composer, in the hall made it that much more extraordinary for performers and audience alike."
The Student Experience
American University Orchestra Director Matthew Brown conducted the performance, along with Director of AU Choral Activities Daniel Abraham, who conducted an opening work by Franz Joseph Haydn.
Brown says that this was a unique experience for the student performers, who were first introduced to the symphony last semester. "It was a rare opportunity for such a broad array of people to work so diligently on such a profoundly meaningful artistic product, and to see all of that work culminate in such a magical way, with a large and enthusiastic audience deeply appreciative of our efforts. This was an experience our many student performers will not soon forget. Congratulations to all involved!"
Abraham says the concert was not only exciting for the performers and the audience, but also for the university and the greater DC community. "Every hearing of a new work represents a furthering of our art…it's at the core of what our university stands for, and this performance provided our students an opportunity to explore yet another mode of contributing to the welfare of our world. The arts at American University are not bound by preconceived notions of genre or restrained by the norms of tradition. This kind of risk taking in order to make a contribution is what we do best." 
A Spectacular Performance
A Choral Symphony: Halevi is Saltzman's symphonic setting of poems written by a twelfth-century Hebrew poet named Judah Halevi, translated into English by renowned Hebrew scholar and translator Raymond P. Scheindlin. Towards the end of Halevi's life, he decided to leave Spain and make an epic, solo journey to Jerusalem and the Holy Land, Palestine.
"The poems tell of the journey and difficulty Halevi experienced, both physically and emotionally as he left his family and Spain for Jerusalem in order to fulfill a religious obligation and dream," says Saltzman. "This is very much a sea symphony and musical work of hope for humanity."
Saltzman is known as one of the most beloved Jewish spiritual leaders in the Washington area, serving as a rabbi, educator, and cantor. He has been composing and performing music for decades. As a performer he has appeared at the Kennedy Center Concert Hall and Opera House, the National Cathedral, and Strathmore Performing Arts Center. His original symphonic music has been featured by the Alba Music Festival in Alba, Italy, and the Kennedy Center and TV-2 of Denmark. He has been profiled by The New York Times, The Washington Post, Opera News, and more. 
Saltzman attended the performance with his wife, Carol Nissenson, his son, Josh Saltzman, and other close family members and friends. He said he was grateful for all the work that went into making the performance a reality.
"I am speechless following this spectacular premiere of my A Choral Symphony: Halevi," he says. "My heart is very full and filled with gratitude to American University, the College of Arts and Sciences and its performing arts division, especially the Department of Music: Matthew Brown, who was literally and figuratively instrumental, Daniel Abraham, and Casey Cook, who raised their voices to affirm the decision to make this a priority, and the entire department for their total commitment."
A Generous Gift
"This exciting performance wouldn't be possible without the generous gift from the Eugene M. Lang Foundation," says Abraham. Lang, who passed away in 2017, was a pioneering businessman, entrepreneur, and philanthropist who deeply loved the arts and believed that education is the key to meeting society's most intractable challenges.
He initiated education, health, and arts enterprises that are recognized for their ingenuity and transformational accomplishments, including the national "I Have A Dream" program, which provides sustained personalized guidance and support to many thousands of underserved children throughout their K-12 years. The recipient of many honors, Lang was designated by President George H.W. Bush as a "Point of Light" and he was deeply touched to receive the nation's highest civilian award, the Presidential Medal of Freedom, from President Bill Clinton.
"It was a great privilege to channel my father's philanthropy and spirit to support AU's magnificent performance of Arnold Saltzman's Halevi Choral Symphony," says Jane Lang, Eugene M. Lang's daughter. "The performance was memorable and profoundly meaningful—my father would have been deeply moved, as I was. Thanks for the opportunity to have a small part in sharing this stunningly beautiful work in our community. It was a splendid evening!"