Science
Hall of Science Complete and Opening Doors Marks new era for science at AU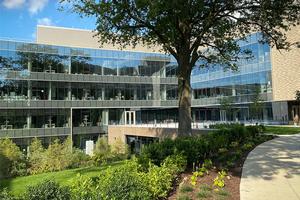 Construction on AU's gleaming, brand new Hall of Science has been completed, and the building will be opening its doors for labs and classes in compliance with the latest health and safety guidelines. The building is the latest development in AU's ambitious commitment to further scientific research to address some of the world's most pressing problems, from environmental degradation to disease and health disparities.
**Please note that the building is not open without advance permission at this time! 
The 125,000-square-foot facility houses AU's biology, environmental science, chemistry, and neuroscience departments. It joins the Don Myers Technology and Innovation Building, which was completed in 2017 and houses physics, mathematics and statistics, computer science, the AU Game Lab, the Kogod Center for Innovation, and the Design and Build Lab.
Watch a time-lapse of the construction taken from a webcam atop Beeghly Hall.
"The Hall of Science is a campus jewel: a brilliant, state-of-the-art facility supporting the cutting-edge research conducted by our science faculty and students who can learn right alongside them in high-tech labs and classrooms," says Max Paul Friedman, interim dean of the College of Arts and Sciences. "It's concrete-and-glass evidence of our commitment to a renaissance in the sciences at AU."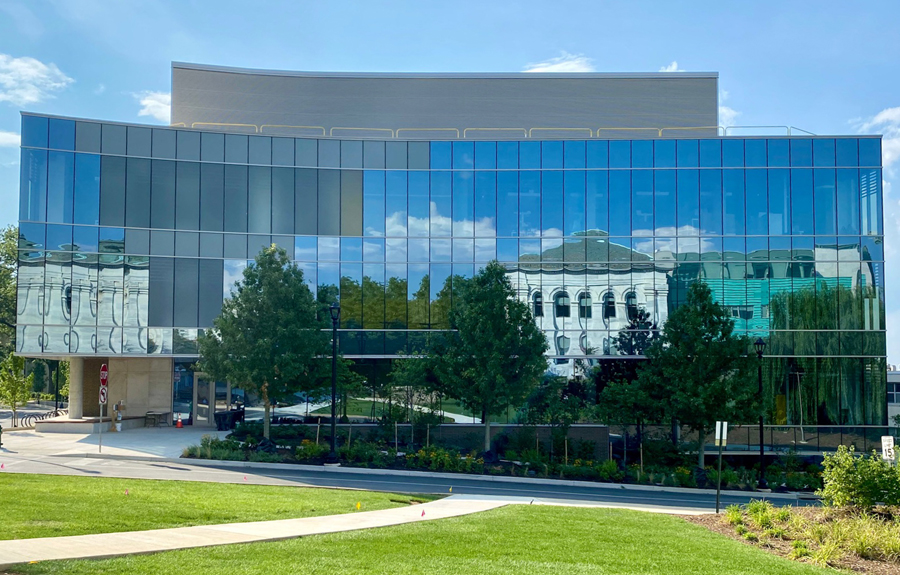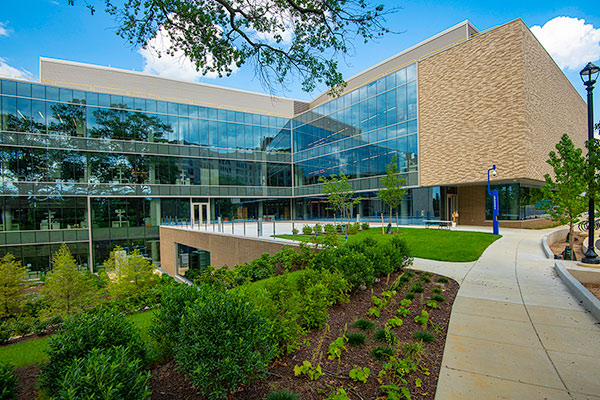 Read on for updates on individual departments.
An Investment in the Growing Sciences
Science is the fastest-growing area of undergraduate study at American University. Over the past several years, College of Arts and Sciences faculty have grown their research funding by more than 100 percent, securing more than 50 unique awards from the National Institutes of Health and National Science Foundation. Together, the Hall of Science and the Don Myers Technology and Innovation Building will position the university to receive more funding grants as its researchers utilize the facility's advanced labs and infrastructure.

Department of Neuroscience
This summer, the university launched a new Department of Neuroscience under the leadership of Terry Davidson, who was named Distinguished Professor of Neuroscience by AU's Board of Trustees this spring. The department will move into the Hall of Science next month.
"The opening of the Hall of Science, with its state-of-the-art laboratories and core research facilities, will be a transformative event for the Department of Neuroscience," says Davidson. "It will increase the ability of our faculty and students to gain the knowledge of the brain and nervous system that is needed to address current and future challenges to human health and well-being."

Department of Biology
Katie DeCicco-Skinner, associate professor and biology department chair, says that her department is looking forward to all the possibilities that the building holds, from new opportunities for collaboration across disciplines, to high-tech labs and equipment.
"The modern, shared laboratories are designed to foster interdisciplinary collaboration and integrative approaches to shared research problems in the areas of cellular and molecular biology, physiology, computational biology, cancer, developmental biology, evolution, and genetics," she says.
"The abundant natural sunlight in the teaching and research laboratories make the space inviting, and ample social spaces and write-up rooms will facilitate communication between students. Additionally, the molecular, tissue culture, computational, and imaging core facilities, which flank research laboratories, will give biology faculty and students access to some of the most cutting-edge technologies."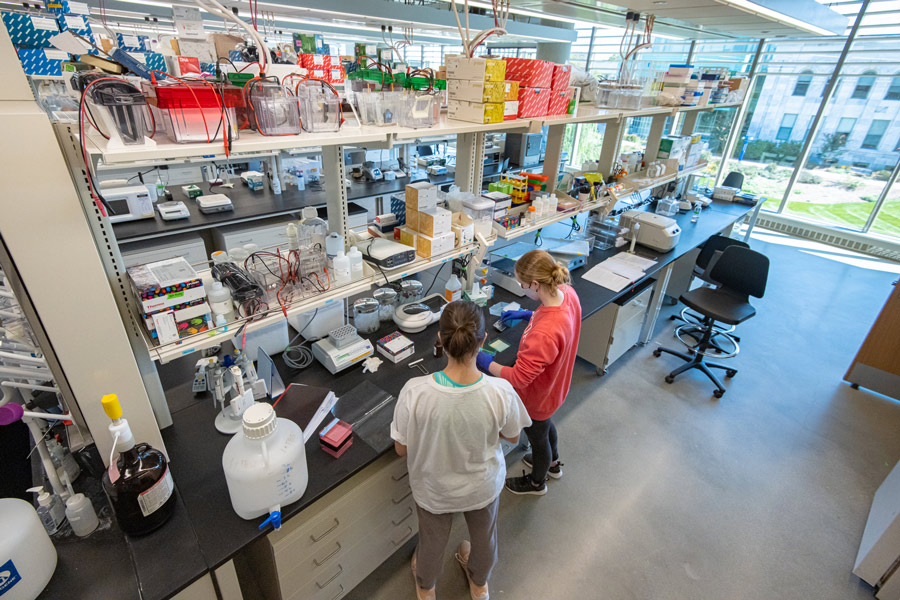 Department of Environmental Science
Stephen MacAvoy, professor of environmental science and department chair, says that ENVS faculty and students are excited and eagerly anticipating enhanced collaboration with the other physical and biological scientists.
"The physical and biological sciences at AU have seen tremendous growth over the last decade and the Hall of Science will usher in another period of unprecedented achievement," he notes. "For environmental science teaching and research, the new facilities offer greatly increased capacity for ecohydrology, geochemistry and ecology as well as modeling, remote sensing and data visualization."
Department of Chemistry
"For our department, the opening of the Hall of Science enables new abilities and capacities to conduct research and teaching in materials science, forensic chemistry, drug development, biosensors, chemical weapons proliferation, computational chemistry, and food chemistry," says Shouzhong Zou, professor of chemistry and department chair.
"The lecture hall will provide advanced technologies for more engaging and innovative research and teaching presentations," he explains. "The advanced laboratory for our majors broadens our capability to train students in modern instrumentation in a research environment. The dedicated chemistry of cooking laboratory is a kitchen in a lab, which showcases how chemistry is everywhere in our life and is the central science. The Hall of Science as a science hub on campus fosters close collaboration among researchers from physical and biological sciences to data sciences."
All images by Jeff Watts.