Social Sciences
Healthcare Burnout in America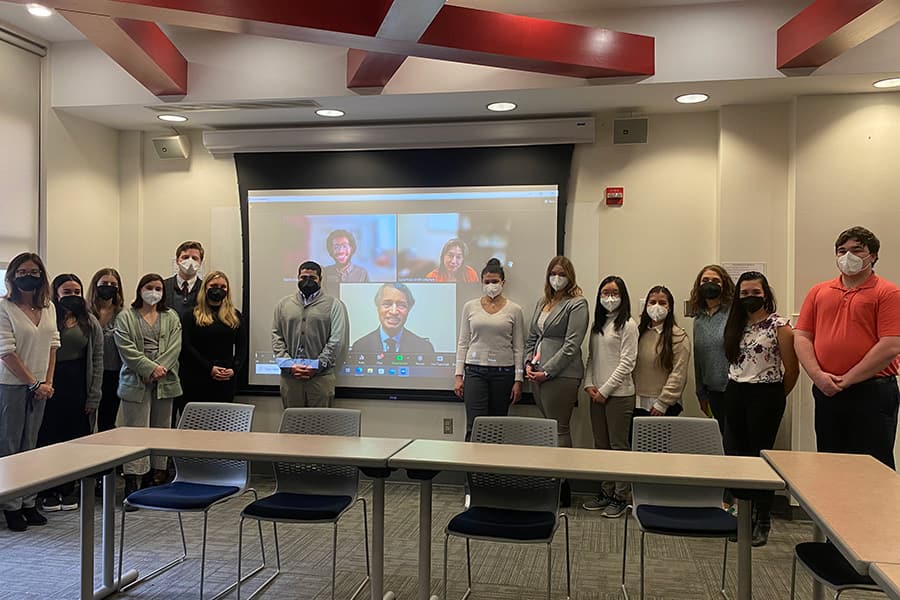 Even before Covid-19, hospitals across the United States were short staffed. But over the past three years, the pandemic added significant strains to the US healthcare system, between waves of surging Covid cases, hospital capacity issues, and staff shortages. Covid-19 has left our healthcare workers facing unprecedented exhaustion and burnout.
It's a crisis with serious implications for our healthcare system, and it will take innovative strategies and interventions to find a long-term solution.  
This makes it a perfect case for this year's American University's Global Health Case Competition, an annual event sponsored by the Department of Health Studies. The competition challenges teams of students to develop innovative solutions for 21st century global health challenges. The teams are judged by experts in medicine, mental health, and evaluation research. Prize money for the winning teams is set as: 1st place: $1000; 2nd place: $500; 3rd place: $500.
The 2022 Competition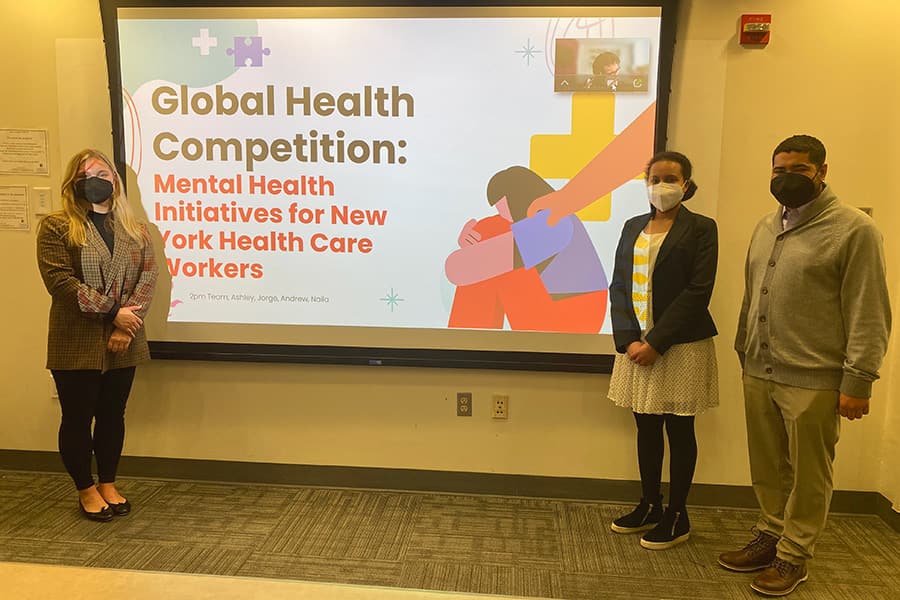 The teams were tasked with "developing a feasible and creative proposal of an intervention or interventions that will aid in addressing mental health among health care workers in New York, one of the states most impacted by the Covid-19 pandemic. Each team was given a theoretical budget of $2.5 million to be implemented over a three-year period. Teams had a little over two weeks to create their plans and then present them to the judges on February 16.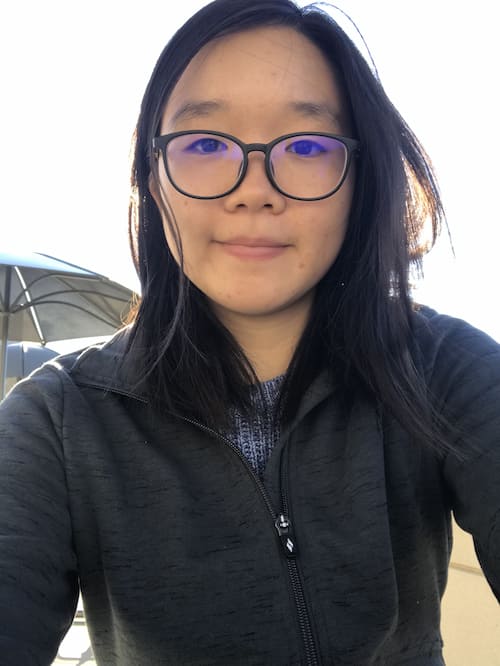 Participants said they found the process as rewarding as the prizes. This was the first global health case competition for Julianne Wong, a first-year Public Health Scholar. She said it showed her the importance of teamwork and use of multidisciplinary lenses when solving complex health issues.
"The experience allowed me to better understand how public health problems cannot be effectively addressed solely through the contributions of public health officials," Wong explains. "People in business, public policy and administration, sociology and psychology, and other majors can add real impact to the solution process. The competition showed me that if I want to tackle a real-world issue in the future, I will need to utilize a diversity of experiences and perspectives."  
AIDE: A Winning Solution
The winning team included Jorge Aponte Alvarez (Political Science), Ashley Bastin (Biology), Andrew Gamble (CLEG/History), and Nai'la Mareen Morris (Public Health). They proposed a comprehensive and sustainable approach, named AIDE, which would provide healthcare workers in New York City with
Accessible counseling services and emotional support,
Inclusion of existing local community resources to provide assistance for family and child care,
Decrease burnout through stress management and improved working conditions, and  
End supply shortages.
Ashley Bastin
"This competition was not only a lot of fun, but it helped me to find the applied context of the hard science that I study at the lab bench. As a biology major, I'm often more focused on the molecular aspects of a problem instead of the big picture application, so a shift in not only the content that I'm used to, but also the way I approach problem-solving was a very rewarding experience."
Andrew Gimble
"Though I have experience working at my local health department, the GHCC provided a case to solve that I hadn't worked with before, and it was very rewarding to utilize existing skills to confront a new problem. It was especially interesting to see how my majors, History and CLEG, played an active role in solving this problem, from analyzing financial impact to applying historical context."
Jorge Aponte Alvarez
"Throughout the duration of this event, I had the amazing opportunity to learn about public health and the importance of putting it at the forefront of many conversations. This case competition really allowed me to put my political science background to work and apply it to a field which I wouldn't normally be involved in. It was a great experience to be able to delve into a field I would not have ever experienced otherwise, but is so important, especially during a public health crisis."
Nai'la Mareen Morris
"This was a new experience for me, approaching a problem and creating a solution that would solve the problem. I will take what I have learned from my teammates and from this competition to think deeper about topics that impact the health of people."
Other Award-Winning Teams
Read on for the other award-winners:
2nd place: Sara (DJ) Daniels (Public Health), Anna Gardner (Sociology), Dany Olivares (Psychology), Elizabeth Stockbridge (Public Health), Natalie Turkington (SIS)
3rd place: Jamie Asaref (Public Health), Adira Brenner (Health Promotion), Alec Harris (Public Administration), Rotem Miloh (Public Health), Julianne Wong (Public Health)
Award for Innovation: Allison Alayza (Biology), Alyssa Cabacungan (Public Health), Grace Mills (Public Health), Taylor Jeffrey-Doone (Public Health), Olivia Loibner (SIS)