Liberal Arts
Nadell Named Chair in Women and Gender History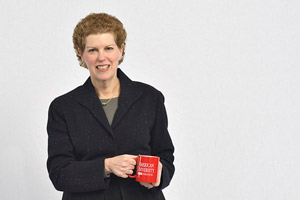 American University celebrated the appointment of Pamela Nadell as its inaugural Patrick Clendenen Chair in Women's and Gender History in September 2010. 
Professor Nadell, arguably our nation's leading scholar on the history of Jewish women in America, has written, edited, or coedited six important books and is currently on sabbatical to finish a seventh. Her most recent publication, New Essays in American Jewish History, was coedited with Jonathan D. Sarna and Lance J. Sussman. She has served as a member of nine academic advisory boards and is much sought after as a consultant by museums, archives, filmmakers, and others. Pam has directed AU's outstanding Jewish Studies program since 1994. 
In 2007, she was the recipient of the university's highest honor, the AU Scholar/Teacher of the Year award. The Academic Council of the American Jewish Historical Society also recognized Nadell's many contributions by awarding her the Lee Max Friedman Medal for distinguished service in the field of American Jewish history. 
Professor Nadell's appointment as Clendenen Chair was made as the result of a gift of $50,000 by Mary E. Graydon in 1894, only a year after AU was chartered by an Act of the United States Congress and more than a decade before it would admit its first class. She wanted to endow a professorship in what AU's early builders called the "College of History," with the understanding that the proceeds of the fund, as she noted, to "go towards the education of young women alone." 
By the twenty-first century, that gift, named for her grandfather Patrick Clendenen and given by a woman who wished in all due modesty "that no publicity be given to my name" had matured into the Patrick Clendenen Fund for Women's and Gender History in AU's Department of History. 
Beginning in 2006, income from the Clendenen Fund was used to support a number of initiatives in women's and gender history, including a rotating Patrick Clendenen Professor in Women and Gender History. 
As Clendenen Professor, Nadell organized the AU conference "With Vision Flying: New Perspectives on Women's and Gender History" in March 2008. Kate Haulman, her successor, is coediting a volume of essays on women's history that was generated by that conference. 
In fall 2010, Professor Eileen Findlay began her two-year term as Clendenen Associate Professor, in which she will begin an oral history of Caribbean migrants to the District of Columbia.