In the Community
AU Humanities Truck Receives $100,000 Grant to Feed DC's Hungry
When the COVID-19 pandemic struck and people across the DC region began struggling to put food on their tables, American University's Humanities Truck Project came up with an innovative way to help. Last summer, the distinctive red-and-blue truck began delivering food to DC communities, helping to feed hundreds of hundreds of people each week.
In December, the truck's team got some exciting news — they received an emergency $100,000 COVID-19 grant from the Henry Luce Foundation to expand their food distribution. Through the grant, the Humanities Truck Project will partner with seven groups to expand its reach: DC Central Kitchen, Food for All, Street Sense Media, Kyanite Kitchen, Trabajadores Unidos de Washington DC, HIPS, and a loosely organized group of activists fighting homelessness who have themselves experienced homelessness.
"Each group focuses on people facing significant levels of economic deprivation — including Latino day laborers, people experiencing homelessness, people faced with food insecurity, and communities impacted by sex work and drug use," says Dan Kerr, associate professor of history, director of American University's Humanities Truck program, and associate director of AU's Public History Program.
The grant gives the team an opportunity to experiment with approaches to food distribution to determine which are most effective for different communities. Kerr says that approaches will range from delivering bags of food and providing food vouchers, to partnering with a group that serves prepared vegan meals, to offering substantial cash cards to day laborers in need, or even providing living wage employment to people experiencing homelessness.  
"With the grant, the Humanities Truck Program is breaking new ground in developing a new form of public humanities work that embraces the principles of mutual aid and seeks to address basic human needs in addition to the essential need we all have for understanding the world we live in," Kerr says.
Bringing Together Scholars and Local Communities
The Humanities Truck was built in 2018 as a high-tech mobile humanities lab — a way to democratize the production of knowledge by bringing together scholars and community residents across DC. Before the pandemic, faculty members and students drove the truck around the DC region, collecting stories and oral histories from its diverse people and communities. The material was preserved, interpreted, and curated into traveling exhibitions that were then shared back across the region.
The bright truck has become a recognizable and much-loved fixture in DC neighborhoods. At the fall 2019 Adams Morgan Day Festival in northwest DC, for example, more than 7,500 people interacted with the truck, including 3,560 who lined up to crowd into the back of the truck to view its latest exhibition.
At that time, no one imagined that the program was less than six months away from suspending all operations. But on March 11, 2020, the truck stopped all of its work as a result of the pandemic, cancelling dozens of events.
By June, the city was experiencing mass unemployment and major protests against police brutality and the murder of George Floyd. Kerr brought together his advisory boards and faculty fellows (nine CAS faculty members who work part-time on the truck) to discuss how they might support their community partners who were delivering food to people in need. Faculty fellows Naoko Wowsugi and Ludy Grandas volunteered to participate.
Naoko Wowsugi: Artist and Citizen
At the time, Wowsugi, artist and Department of Art Professorial Lecturer, had been volunteering for DC food justice initiatives for several years, and one of her networks was looking for new ways to deliver food. "The Humanities Truck was looking for other ways to activate the truck during pandemic, so I thought using the truck for food justice would be perfect," she explains. "I believe in reciprocity, gift economy, and community ethics. The Humanities Truck collects stories from surrounded communities. This project exists because of the community participation. When these communities are facing challenges, we should support their needs. That is how we build relationships with them."
Wowsugi began using the truck to deliver food for two nonprofit groups. We Are Family DC delivers food to isolated seniors. Kyanite Kitchen is a black womxn-run community food pantry that provides free fruit and vegetables, vegan food, and toiletries to members of DC's Wards 7 and 8. Since July, Wowsugi has loaded up the truck to deliver 40-50 grocery bags of food for Kyanite Kitchen each Tuesday.
Wowsugi says she finds the work inspiring, both personally and professionally. "I work in the field of socially engaged art. Just working with food justice groups and engaging with people at the event, I get positive energy and inspiration as a citizen and an artist," she explains. "Personally, I think we need to develop the function of a community more. A community is the perfect solution for what is lacking in government and individuals."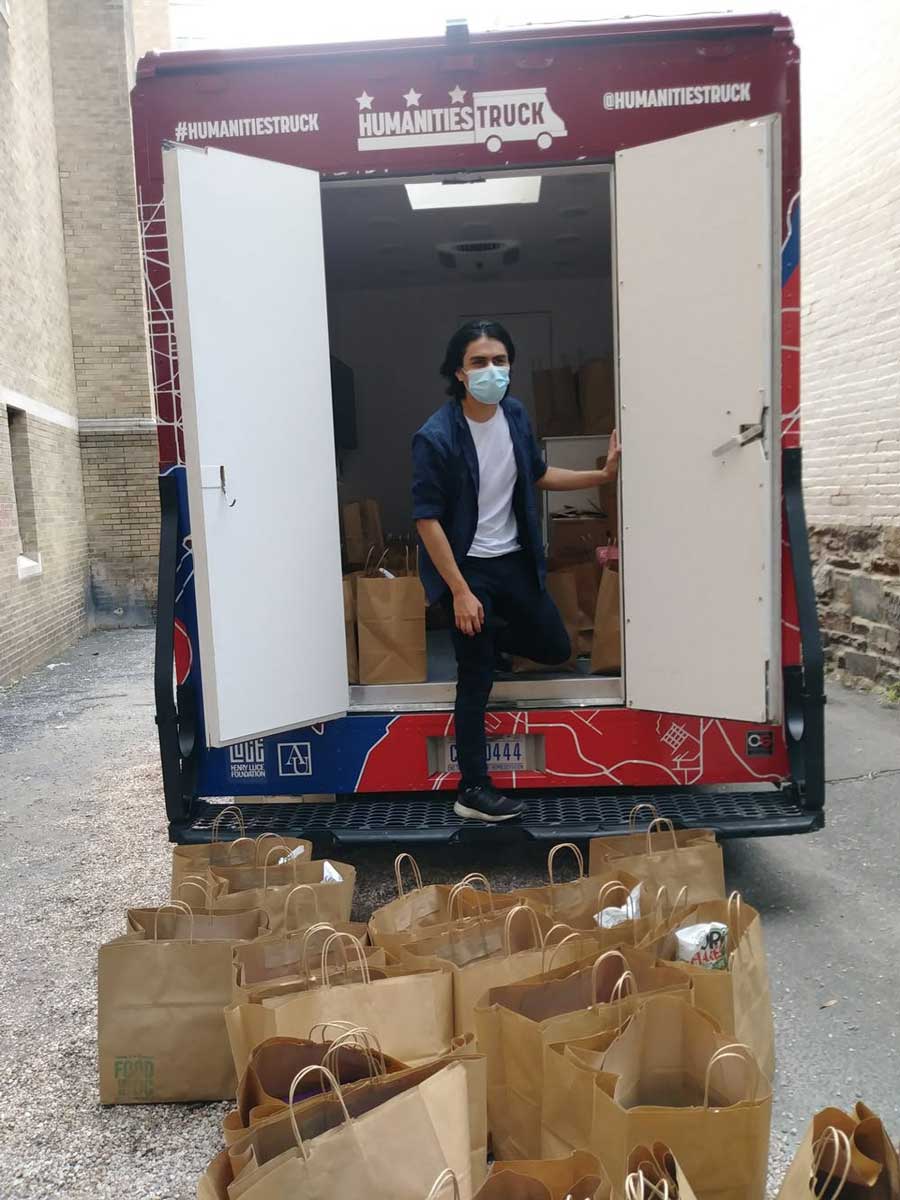 Ludy Grandas: Responding to Community in Need
Grandas, senior professorial lecturer in AU's Department of World Languages and Cultures, loads up the truck every Friday and drives it to a Home Depot in Northeast DC to distribute grocery bags and vegetable boxes to members of DC's day laborer community. The nonprofit Food for All DC provides the food.
Grandas and her students had been working closely with the day laborer organization Trabajadores Unidos for the past few years and have collaborated in several projects with day laborers both on and off campus. "Seeing how COVID-19 had been affecting the immigrant community and particularly the day laborer community, it was crucial to do something with and for our community partner," she says.
For Grandas, food distribution in pandemic times is just one way to assure the day laborers that AU's community partners matter — and that the day laborer community is no exception. "The Humanities Truck has been working in the parking lot of the Home Depot since April 2019 when we held an event to show an exhibit whose photographs had been taken by the day laborers themselves and curated in conversation with my students," she says. "I have also taken the truck there for two memorials honoring the deaths of two day laborers. On other occasions, Marcy Campos (from AU's Center for Community Engagement and Service) and some of my students have brought coffee, chatted with day laborers, and collected their stories. After these activities, I see the truck as a natural outgrowth of being part of the community at this time of need."
Forward Thinking
As the Humanities Truck Project moves forward with its critically important food justice work this year, the faculty fellows are still working on developing exhibits, including From Me to You: A Covid-19 Oral History Project. The virtual project asked participants to record their own videos, draw upon their own experiences, and offer their unique perspectives on the impact of COVID-19. The project spread from person to person, connecting video to video with lines on the map, emphasizing the interconnectedness of people with a diverse array of experiences. 
Kerr says the truck project has always sought to creatively transgress boundaries that separate the academia from surrounding communities. Its food justice work is a natural outgrowth of this philosophy. "Societally, we have systemically separated social services from the arts and humanities. One is about providing for basic human needs and the other is about the pursuit of ideas and creative expression," he says. "What we would like to explore with this grant is whether we can unsettle the boundary between the two — provide significant aid to the communities we work with, while valuing the need for critical reflection and ideas."