Science
Third Edition of Chemistry Professor's Book Published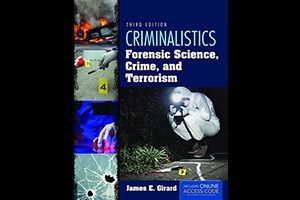 When chemistry professor James Girard was teaching a new honors course he'd designed in forensics a few years ago, called Criminalistics, Crime, and Society, he realized that the text material he'd chosen for the class wasn't working. "A lot of it was written by ex-crime lab people, detectives, and prosecutors—not professors," he says. "One of the things I've found to be very compelling for students is when I can connect the science material to real cases they might have heard about." He decided a new book was needed that provided a scientific look at forensics, and he took on this challenge himself. His textbook, Criminalistics: Forensic Science and Crime, was published in 2008 by Jones and Bartlett Publishers. 
In November of this year, the third edition was published with an extended title: Criminalistics: Forensic Science, Crime, and Terrorism. Girard made timely additions, including a section on the Supreme Court's recent decision on taking DNA samples, a new section on bath salt drugs, and three chapters that focus on terrorism: cybercrime, explosives, and weapons of mass destruction. "I asked the FBI to review the weapons of mass destruction chapter, and they said I should include agroterrorism," he says. 
Girard understands the need to keep things fresh. "After a few years, everything's considered old and stale," he says. "If you don't update every three years or so, faculty tend to go looking for a different book. I'm constantly drilling through information to try to make sure that I'm staying current." 
In 2013, Girard's class—and textbook—is as popular as ever. "I've had students who've said they've been trying for three semesters to get into the course," he says. With another title, he speculates that he'd draw an even larger interest. "I joke that if I called the course Guns, Drugs, and Sex, I'd get every student at the university." 
Most students who take his course have an interest in criminal justice, and many want to become prosecutors. "Students can use the information from this course as a way to strengthen their skills so they'll be better lawyers," he says. "Understanding the scientific side of forensics will be important." The class focuses on the scientific aspects of criminal investigations and the judicial process. 
Girard is intimately familiar with how forensics is analyzed in criminal cases—he's been an expert witness on murder and drug trials. "I'm usually hired by the state in very high-profile trials to represent the person charged so they get a fair trial," he says. "It's a tough thing to do, to break through and get the jury to look at the science and evidence and not the person." 
Next year, the honors program at AU is changing; instead of 200 or so freshmen, it will be 45. The small group will take four core courses together, and Girard was asked to create a new forensics-based course as the science component. His course will be called Burden of Proof, and he'll be teaching it with statistics professor Betty Malloy and justice, law and society professor Richard Bennett. "I'll be talking about how physical evidence is analyzed, Professor Malloy will address what statistics are significant, and Professor Bennett will discuss whether the evidence would be admitted in court," he says. 
Will Girard see a need for a new textbook in this course? Check bookstores next year to find out.