Arts
Audio Tech's Jassie Rios Takes Second in International Musical Instrument Competition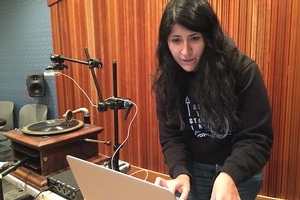 Called the "X-Prize" for electroacoustic instrument design by Wired magazine, the Guthman Musical Instrument Competition receives hundreds of submissions from university faculty members, research centers, tech companies, and graduate students from around the world. This year's competition awarded one of three prizes to American University Audio Technology MA student Jassie Rios for her project GramFX, which captured 2nd place.
"It's a tremendous accomplishment for Jassie and we are so proud of her in the Audio Technology program," said Professor Paul Oehlers. "Her research with Professor William Brent is truly groundbreaking and for her to be recognized on an international stage like this speaks to how important her work is."
Jassie's instrument modifies an old hand-cranked gramophone and uses real-time audio effects controlled by capturing motion tracking data. The software Jassie developed with Brent builds upon the DRFX object that he designed for Pure Data (Pd) software. The project began in one of Brent's graduate classes, Digital Instrument Design, but Jassie's continued work on the instrument extended well after the class was finished.
"Jassie's GramFX instrument represents an intersection of some very loaded themes. The hand-cranked gramophone generates sound entirely mechanically, and evokes an era of sound reproduction that we know from a historical perspective, yet are still in touch with through contemporary turntablism," said Brent. "When heavy layers of digital signal processing effects are applied to the gramophone's output, and we see Jassie sculpting the sound in mid-air with her hand while also maintaining physical contact with the phonograph needle, the result is a kind of aesthetic friction that is fascinating to witness. Jassie had a vision for GramFX from the start, and followed through to this very impressive achievement as she is wrapping up her ATEC MA. I look forward to seeing her next steps with this instrument and all of her future work in sound art."
In addition to capturing second place, Jassie became the first woman to be selected as a finalist, perform on her instrument in the competition, and win a prize in the Guthman Competition. "The experience was truly life changing!," Jassie said. "I want to extend a huge thank you for support, kind works, and advice of the faculty throughout my research and coursework while at AU."