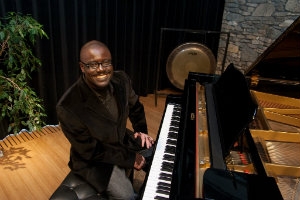 Music has been taking John Wineglass places all his life.
When he was just 11 years old, Wineglass joined a youth orchestra to see the world. Today, the three-time Emmy Award winning composer has performed in countless countries on five continents—and in front of every president since Ronald Reagan.
Wineglass (BS music composition '94) was born with perfect pitch and grew up in a music-filled home in Washington, DC. By the time he was six years old, he had taught himself how to play the piano by ear. By 11, he was playing the viola in the DC Youth Orchestra, which toured every summer in places like Spain, Korea, Yugoslavia, China, and the former Soviet Republic. "The orchestra—and the travel—changed my life," he says. "They opened up worlds of opportunity to me."
Wineglass's next big opportunity was a scholarship to the Kogod School of Business at American University. But after arriving at college, he realized that music was his true calling, and he received a scholarship from the DC Youth Orchestra to pursue it. He graduated from AU with a major in music com- position and a minor in viola performance—and considerable experience in performing at prestigious venues across DC, from the university president's house, to embassies, to political fundraisers.
After graduation, Wineglass moved to New York City and earned a master's degree in composition, with an emphasis on motion pictures and television, at New York University. It was during his studies there that he got an unexpected call from a friend who had received an internship offer he didn't want—at the soap opera All My Children.
Wineglass did not hesitate to accept it in his friend's place. "You need to grab every opportunity offered to you," he says. "You never know what will come out of it."
The internship at All My Children, as well as his work with four other major network shows and several national syndicated commercials, led to a rich career in composing music for television, independent films, documentaries, multimedia, and symphony halls. Wineglass's musical interests are broad: he is a violist, a gospel and contemporary jazz pianist, a music producer, and a college professor. He has worked on classical, modern, and contemporary music, winning three Emmy Awards for Outstanding Achievement in Music Direction and Composition for a Drama Series, and three American Society of Composers, Authors and Publishers Film and Television Music Awards.
Wineglass has composed scores for documentaries on MSNBC's Headliners and Legends with Matt Lauer, for television commercials, and for international campaigns on behalf of the American Red Cross, the US Army, and others. He has worked and performed with Grammy Award winning artists and producers, and has performed as a guest conductor with the New York Philharmonic, Hong Kong Philharmonic, National Chamber Orchestra, and the Pan-American Orchestra, among others.
Most recently, Wineglass has been commissioned by the Big Sur Land Trust to compose a symphonic work inspired by former poet laureate Robinson Jeffers and the beauty of the Big Sur coastline and redwood forests. Wineglass moved with his wife and daughter 10 years ago to Monterey, California.
He teaches as an adjunct professor at California State University—Monterey Bay, and plays the viola with the Monterey Symphony.
In many ways, Wineglass has come full circle. He volunteers with city kids from a youth orchestra and has taught them how to play music at the Big Sur Land Trust's ranch. "It's a pretty awesome experience," he says. "Even though I'm a city boy at heart, I draw from nature, and I am inspired by its beauty," he says.