Arts
Ballet Star Julie Kent Inspires Audience at AU ABT principal dancer and now artistic director of The Washington Ballet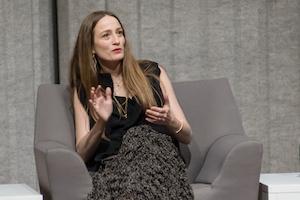 For 30 years, Julie Kent graced the stage of the American Ballet Theatre. She was world-renowned for her dramatic and graceful starring performances in Sleeping Beauty, Swan Lake, Giselle, Romeo and Juliet, and more than 100 other ballets. In 2016, she took on the role of artistic director at The Washington Ballet, DC's world-class dance company.
On September 21, 2018, nearly 200 people gathered at American University's Abramson Family Recital Hall to hear Kent speak about artistic expression, the DC performing arts scene, motherhood, the importance of character, and leadership in the arts.
The audience was filled with AU faculty, AU dance and performing arts students, Washington Ballet students and patrons, AU Board of Trustee members, and local DC community members. They were greeted by College of Arts and Sciences Dean Peter Starr.
"Welcome to the Katzen Arts Center to the first event that we at AU hope will be a long and fruitful partnership with our friends and neighbors at The Washington Ballet," he said.
A Warm Welcome by President Sylvia M. Burwell
American University President Sylvia M. Burwell took the stage to introduce Julie Kent. She described AU's dance program as an incubator for innovative arts and as a thriving laboratory that has welcomed artists like Twyla Tharp and José Limón. She said she was thrilled to welcome Julie Kent to this group of dance luminaries.
"We're so pleased to have you here," Burwell told Kent. "I'm happy and honored that we will have a chance to learn from your experiences and insights tonight."
Kent then sat down with AU Dance Program Director Britta Joy Peterson, and Department of Performing Arts Chair Andrew Taylor, for an informal discussion followed by questions from the audience.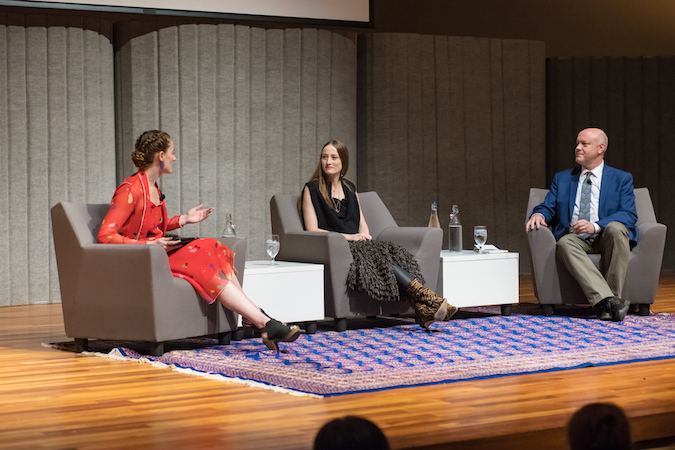 Julie Kent, Britta Joy Peterson, and Andrew Taylor on stage.
From Ballerina to Artistic Director
Kent joined American Ballet Theatre (ABT) as an apprentice in 1985, became a member of the company's corps de ballet in 1986, was promoted to soloist in 1990, and to principal dancer in 1993. In all, she had a 29-year career at the ABT. She holds the record as the longest-serving ballerina in the theatre's 75-year history.
In 2016, Kent accepted the role of artistic director at The Washington Ballet, making her one of very few female leaders in the dance world.
Leading The Washington Ballet was a natural progression for Kent in many ways. "The role of an artistic director is to steer the institution forward, and for me, the most important part of that title is art," she says. At The Washington Ballet, Kent works to share her knowledge with the dancers and to position the art form itself to make the greatest impact on the DC community. "It's a lot of multitasking," she says, "but I really try to focus on the art."
Kent says she is building a solid foundation of master work at The Washington Ballet. Over the past three years, she has introduced seminal works into the repertoire by George Balanchine, Frederick Ashton, Jermone Robbins, Alexei Ratmansky, and other masters. She has also presented several evenings dedicated to new works. One of her goals, she says, is to cultivate an environment that supports the creation of contemporary masterpieces that "reflect our time and our experiences."
A New Career, A New City
In 2015, Kent realized that her career as a dancer was soon coming to an end. "I took some great advice, and I wrote a list of post-performing career goals," she says. "And at the top of the list was to share my voice as an American artist, and as a dancer, and as a woman, and then to advocate for arts education. And then to help develop and nurture the next generation of dancers."
Kent worked briefly for ABT's education department before receiving a call from The Washington Ballet, asking if she had any interest in leading the organization. She interviewed for the position for several reasons. "I wanted to be that person who accepts the challenge because I really wanted to show that example to my children," she explains. She also felt ready for a leadership role. And finally, she says, "The idea of contributing to the artistic and cultural landscape of our nation's capital is one of the greatest honors and privileges and thrills that you can have."

Julie Kent and Britta Joy Peterson discussing advice for young dancers.
We All Start in First Position
Throughout the evening, Kent shared advice with the young dancers in the audience. "The whole point of being an artist is not seeking perfection, it's seeking improvement," she told them. "A dancer starts every day at the bar in first position, whether you are a student at American University or whether you're Twyla Tharp. We all just start where we finished the day before and try to improve and move forward. And that's very inspiring, it's like the fountain of youth because each day we have the potential to do better."
Kent stressed the importance of hard work and finding mentors. "I think very few of us are born great at anything," she said. "I had a large spectrum of very talented people who believed in me, or who saw something in me and wanted to help."  
When asked what advice she would give to young dancers, Kent replied, "You're mostly remembered for the person you are, and not for your work, especially by your colleagues. They will be part of your life forever. And so that's an important legacy, making sure you build a path forward based on integrity and good principles."
A dancer's life as a performer is very short, she reminded the audience. "That's a long life to live when you're actually not doing your art. And you want to make sure people remember not just that performance four years ago, but remember the person who you are."
Why Ballet?
Kent was asked by an audience member about the role of ballet in a world of instant entertainment like Netflix and Amazon and YouTube. "Why does ballet matter? Why should someone go to the ballet?" he asked.
"There is nothing more moving and beautiful to watch than the manifestations of the culmination of years of devotion, and discipline, and love, and time, all culminating in something just for you—the audience," Kent replied. "And what happens is that the dancers go back to the barre and they try to make it even more beautiful the next day. And it's so inspiring to think people commit their lives to do that, just to give you that moment in your life when you feel like you're connected."