International
Language and Foreign Studies Dept. Grad Reports Back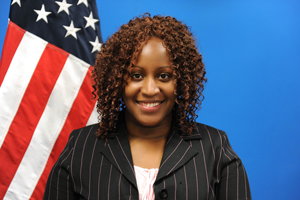 Kamilah Keith, MA Spanish: Latin American studies '10, recounts her experiences in the master's program at AU and how it helps her in her position as a Foreign Service Officer.

Can you talk about your background?
I'd been studying Spanish since I was 12 and in the seventh grade, had honors Spanish in high school, studied abroad in Costa Rica, and I later received a BA in Spanish with a business emphasis from North Georgia College and State University (The Military College of Georgia). Before starting the program, I also interned with the U.S. Department of State at the U.S. Embassy in Santo Domingo, Dominican Republic.
What led you to enroll in the master's program?
I became interested in the program because I wanted to continue my advanced study of Spanish language and focus on Latin America. Most master's programs I had seen were focused on Spain. Also, I was very interested in the translation certificate program that was offered.

Did you do any internships or research projects while in the program?
I liked the fact there was a lot of freedom in choosing research projects. I focused a lot on Afro-Latin American culture and minority issues. For the seminar on Afro-Latin American Culture and Music, I did a research project on the Garifunas and Meskitos of Nicaragua. In a seminar on Latin American Theater and Politics, I did a research project on identity issues between Dominicans and Puerto Ricans in New York. In a seminar on Cuba, I wrote about the plight of lesbians there and analyzed the difference between how lesbians and homosexuals were treated in Cuba and what this meant in terms of the Cuban Revolution. In a seminar on Latin American Culture & Film, I did a research project on illegal immigration issues and the stereotypes of the U.S. as perceived by the illegal immigrants in the various films we analyzed during the course.

If I'd had the time, I would have liked to do the community service project offered in the master's program. It is a great opportunity to interact with the Latino community in the D.C. area, practice speaking Spanish, and make a difference in the community.

Where are you working now, and how did the degree prepared you for the position?
I am currently working at the U.S. Embassy in Bogota, Colombia, for the U.S. Department of State as a Foreign Service Officer. My current position is vice consul, which means I interview Colombians for U.S. visas. Soon, I will move into a new position as a program officer and grants officer in the narcotics affairs section, where I will be tasked with selecting social projects that fall in line with U.S. goals regarding anti-narcotics and rule of law.
The master's degree prepared me for my position because I have advanced study of the Spanish language and Latin American culture that my colleagues do not often have. I am able to be confident when interacting with Colombians and really show that I am educated about authentic Colombian culture, which in turn has helped me to better U.S.-Colombian relations.