Education
Meet New SETH Professor Kathleen Holton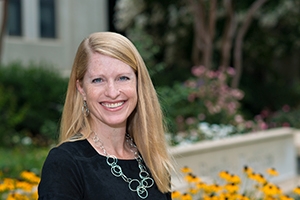 Kathleen Holton is a new assistant professor in the School of Education, Teaching, and Health.

Degrees
PhD nutrition, MPH epidemiology, and BS marketing, University of Arizona 


Areas of Research
Nutritional neuroscience, excitotoxins, fibromyalgia, ADHD, cognitive function, epidemiology

What initially sparked your interest in neurobiology?
"I initially became interested in education while teaching about health in the fitness industry in high school and college. During graduate school, I taught undergraduate nutrition courses which I absolutely loved. I knew then that I definitely wanted to work in education."
What honed your interest to your specific areas of research?
"During graduate school I became very interested in nutritional neuroscience, and more specifically, the role of dietary glutamate in neurological symptoms. My interest was sparked by anecdotal reports of people with a wide range of neurological symptoms which improved when the people removed certain additives from their diet. I began researching these food additives in depth and created a diet which limited the consumption of the additives. I have tested the diet in individuals with fibromyalgia and ADHD, with very promising results. Optimizing diet may have profound effects on the ability to learn, and may be especially crucial in those with disorders like ADHD and autism."
What brought you to AU?
"American University offers a unique blend of opportunities, including the Center for Behavioral Neuroscience, connections to DC area schools, and a location which facilitates communication with important groups like the NIH."
What are you hoping to accomplish at AU?
"I am hoping to expand upon my research to identify what makes certain groups more susceptible to food additives, and the extent to which underlying nutrient content of the diet affects this risk. I am also hoping to expand my research to assess how optimizing diet affects learning."