Arts
AU Community Celebrates Ten Years of the Arts at Katzen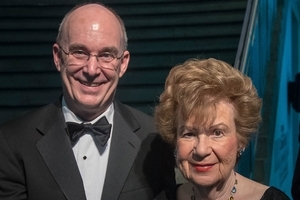 For ten years, the Katzen Arts Center at American University has been the nucleus of a growing and shared community of visual and performing artists, faculty, and students. Today its influence extends far beyond campus to greater Washington, DC, and the nation. On Saturday, September 26, the AU community gathered for a gala event to honor the tenth anniversary of the center and the extraordinary gift from benefactors Cyrus and Myrtle Katzen that made it possible.
In keeping with the center's interdisciplinary nature, the gala took a creative approach to celebrating the arts at AU. A major highlight, in between the cocktail hour and dinner, was an "Arts Walk," in which attendees got to experience first hand the variety and vibrancy of the arts at AU. As they strolled in and out of various performance spaces set up at Katzen, guests experienced two interactive exhibits that connected physical movement, videography and sound; a haunting performance by the American University Chamber Singers; a beguiling dance performance; a stage combat demonstration in the studio theater; and select works by AU art faculty and MFA students.
Peter Starr, dean of the College of Arts and Sciences, told dinner guests, "The Arts Walk you just experienced gave you a taste of the outstanding creative work that happens every day here in the Katzen Arts Center, and that makes this space such an extraordinary resource for AU students, faculty, and members of the greater DC community."