Social Sciences
Lavender Languages and Linguistics Conference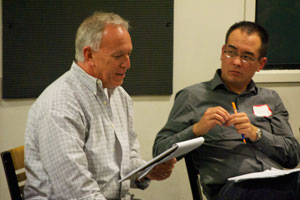 "If we can't say it, how can we be it?" According to anthropology professor Bill Leap, organizer of AU's Lavender Languages and Linguistics Conference, this is one of the fundamental questions driving those studying the connection between the lesbian, gay, bisexual, transgender, and queer (LGBTQ) experience and the power of language. The conference ultimately aims to examine the use of language in LGBTQ life: looking at the significance of pronunciation, vocabulary, and meaning, conversational structure and style, non-verbal language, and a variety of other linguistic factors that have made an impact on the way people experience or observe LGBTQ life. 
"In many U.S. circles, the 'coming out' experience centers around being able to say who you are and what you are—to yourself and others," says Leap. In others, however, "you do not name your sexuality explicitly. Everyone 'knows,' so there is no reason to force the issue into detailed wording." According to Leap, the way people talk about sexual orientation—or the fact that we may not talk about it all—has major social implications on the way individuals perceive and react to sexual orientation.   
The study of LGBT language makes the connection between the internal sexual orientation of each individual and the way this orientation is perceived and experienced in society. The connection between sexuality and linguistics "has to do with mediating interiorized experiences of sexuality with political and social realities," says Leap. "Linguistic practices—speech or silence—are key resources for doing that mediating in all societies, particularly in relation to differences in race, ethnicity, class, age, or other features of social background." 
Vivian Vasquez, professor in the School of Education, Teaching, and Health, will be coordinating a special session for this year's conference featuring Philip Tetro of the Canadian MTV talk show "1 Girl, 5 Gays." The show, which began airing in the United States on the Logo network in October 2010, features a discussion of controversial topics from an LGBTQ perspective including abortion, HIV, and rape. Tetro and Vasquez will hold a workshop on countering homophobia and bullying in schools and understanding the impact that the language of bullying and harassment can have on students.
Another session features a discussion, musical event, and book signing related to Paula Bresnan Gibson's new book, Voices from a Chorus, which features the stories of members of the Gay Men's Chorus of Washington, D.C. Gibson will discuss the process of researching and writing the book, what she learned about the challenges that continue to face gay men in society, and the impact that participating in the chorus has had on the men she spoke with. The session will also feature a musical performance by chorus member Tom Nichols.

"'Outness' is not a cultural universal," says Leap, "and linguistic outness is a privilege in most societies worldwide." In many cultures, it is not acceptable for individuals to be open about their sexuality because of societal pressures that are placed on them. Leap notes that this kind of conference might not be possible at other, more conservative universities. AU has consistently been ranked as one of the nation's most LGBTQ-friendly universities. 
As the Department of Anthropology has emphasized with previous conferences, Lavender Languages is committed to being a "no-attitude" event. "People who come to this conference are genuinely interested in the discussions we are having about LGBTQ language," says Leap. "I don't want anyone who is interested in these issues ever to feel like discussions at this conference are unreachable."
Lavender Languages is the longest running LGBTQ studies conference in North America, now in its 19th year. The conference will take place from February 10-12 in the sixth floor conference room of the Butler Pavilion. Participants can pre-register online or register on-site if they are interested in coming for all three days and having lunch with the conference. Registration costs $20 for employed persons and $10 for students and those between jobs. Participants who wish to only attend one or two sessions do not need to register. 
For more information about the conference or to pre-register, visit the conference Webpage.