Achievements
Teaching Fellow Participates in Nationally Recognized Seminar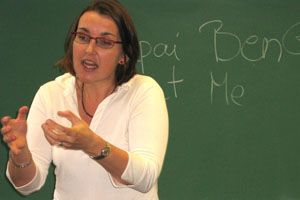 Tatjana Lichtenstein, Schusterman Teaching Fellow in Jewish Studies at American University, was one of 24 participants in the 2009 Jack and Anita Hess Faculty Seminar held from January 5-9, 2009. This one-week event was organized by the Center for Advanced Holocaust Studies of the United States Holocaust Memorial Museum.
Lichtenstein came to AU as a Schustermann Teaching Fellow in fall of 2008. Her research interests include twentieth century Jewish history with a focus on nationalism, minorities and state-building, and relations between Jews and non-Jews.
The Jack and Anita Hess Faculty Seminar is designed for professors of all disciplines teaching or preparing to teach Holocaust or Holocaust-related courses. This year's seminar analyzed the Holocaust within the broader historical context of genocides and the modern era by focusing on ethical dilemmas and legal issues surrounding these events. Participants were competitively selected from a large pool of national applicants.