Achievements
Experiencing Russia with the Likhachev Fellowships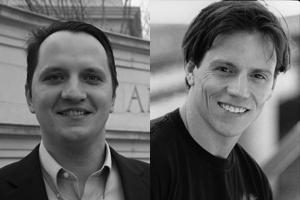 The Likhachev Foundation of St. Petersburg, Russia, works to continue the legacy of late Soviet cultural historian Dmitry Likhachev in the development of Russian culture, education, the humanities, and democratic and humanist values. The Foundation recently awarded two of its prestigious Summer Cultural Fellowships to History Professor and Initiative for Russian Culture Executive Director Anton Fedyashin, and Department of Performing Arts faculty member Robb Hunter. 
The summer fellowships, coordinated alongside the Committee on External Relations of St. Petersburg and the Boris Yeltsin Presidential Center in Moscow, bring professionals from all over the world to St. Petersburg for two weeks to explore specific aspects of Russian culture that will enhance their work in their home countries. Fedyashin plans to use his fellowship to prepare for the "Walking Dostoevsky's Russia" trip which he is taking with ten AU and consortium students in July 2012. "The Foundation is getting me in touch with all the relevant museums, libraries, and local specialists who can contribute to making the trip a full immersion in the cultural life of St. Petersburg," says Fedyashin. "The longer-term goal is to develop a wide network of cultural contacts in St. Petersburg that will contribute to the work of the Initiative for Russian Culture." 
The Initiative for Russian Culture (IRC), which launched this year and has continued to grow thanks to the generous support of Susan Lehrman, works to create meaningful cultural immersion opportunities for students of Russian culture and history at AU and all consortium schools. While in St. Petersburg, Fedyashin will meet with administrators from Lenfilm Studios, local artists and museum curators, musicians and impresarios "in order to lay the foundation for future cooperation between AU and the cultural institutions in Moscow, St. Petersburg, and beyond." 
"The Foundation's goals dovetail perfectly with those of the IRC to explore and promote the richness of Russia's culture," says Fedyashin. "By broadening my access to cultural institutions and figures in Russia, the fellowship will not only allow me to expose American students to a greater variety of Russian culture, but it will also inform my own understanding of Russian culture which I incorporate into all of my courses."
Hunter hopes his time in St. Petersburg will allow him to continue his efforts to bring his expertise on physical theater to AU. "Physical theater uses movement, dance, and acrobatics to convey meaning in a very strong way," he says. Hunter, who originally came to AU as a guest instructor in stage combat, now teaches several theater classes, including a rotating topics course on stage combat. Prior to learning of the fellowship, Hunter had begun working with Synetic Theater, a Crystal City-based Georgian theater group focused on physical theater, to design a physical theater track for performing arts students at AU. 
But these efforts have begun to grow into much more. By chance, Hunter's departmental colleague, Gail Humphries Mardirosian met Maura Sheldon of the Open World Foundation at the IRC's inaugural event at the Library of Congress. Working with Synetic, Sheldon, and Mardirosian, Hunter and AU's Department of Performing Arts were able to secure a grant from the Open World Foundation in order to allow AU students to work with actors and directors from Synetic as well as other Russian directors currently working in the United States and in Russia.
As plans came together for the collaboration, Sheldon informed Hunter of the Likhachev Foundation and he jumped at the opportunity. "Getting to spend two weeks understanding Russian theatrical culture and practice is going to be invaluable," says Hunter. "And it will definitely enhance my ability to work with our partners at Synetic and the Russian actors in the fall." 
Hunter says AU students benefit from working with Russian actors because of the distinct differences in their approaches to theater. "American actors like a lot of structure," said Hunter. "We like things to be very clear-cut. But Russian theater is much more free-flowing and flexible. This gives students experience working with very different types of actors and helps them to analyze their own skills." This is the third collaboration the department has initiated with Russian actors and young directors in the past year. 
Hunter, Fedyashin, and their students stand to benefit from the journeys their professors take this summer to St. Petersburg. "Because culture is something organic and evolving," says Fedyashin, "It constantly reacts to the internal impulses of a nation's collective psyche and the external forces of cultural exchange and cultural clashes. This makes staying in touch with a culture absolutely essential to being in tune with its constantly evolving content and form."