Arts
The Looking Glass Visits the AU Museum Latin American artists and identities
It took seven years and a Communist revolution to begin the journey of Ric Garcia's family to the United States.
In 1959, when Cuban revolutionary leader Fidel Castro ousted the government of President Fulgencio Batista, Garcia's parents decided to stay in Cuba and see if their new country would be a good place to start a family. But within months, they realized the revolution had not created the place they had hoped for.
It would take them seven long years, but finally they were able to leave Cuba for Miami, Florida. Garcia was born there, surrounded by a close-knit Cuban American community who shared old-world values and traditions. He was introduced to art by his father and went on to study graphic design and illustration at the University of Miami before ultimately moving to the DC area.
Garcia's widely exhibited paintings and pop art prints are a cultural mash-up of Spanish and American culture. "I looked to the wealth of experiences from my childhood, where my family's Spanish traditions were the center of the world," he says. "I began to understand what to paint and what to say about that world…I came to an understanding that in my adolescence I became part of the whole as one set of values layered upon another. I was Cuban…I was American...I was blended."
Garcia was just one of ten artists recently featured in the exhibition The Looking Glass: Artist Immigrants of Washington at the American University Museum at the Katzen Arts Center. "The exhibition celebrates artists who left Latin America for many different reasons over the last 60 years—primarily for safety, freedom, and opportunity—and made their homes, and their artistic careers and contributions, in the Washington region," says AU Museum Director Jack Rasmussen.
The Looking Glass was the third exhibition presented by the American University's Alper Initiative for Washington Art, which promotes understanding and appreciation of Washington's art and artists. Artists celebrated in the exhibit include Joan Belmar (Chile), F. Lennox Campello (Cuba), Irene Clouthier (Mexico), Juan Downey (Chile), Ric Garcia (Cuba), Muriel Hasbun (El Salvador), Frida Larios (El Salvador/Honduras), Carolina Mayorga (Colombia), Naúl Ojeda (Uruguay), and Jose Ygnacio Bermudez (Cuba).
The exhibition celebrates the personal stories and journeys of each artist. "These artists come from different generations and from different circumstances," says Rasmussen, "but they brought with them artistic traditions and innovations that took root and bore fruit here in the United States—and in the Washington area."
Highlights from the exhibition include Juan Downey's The Looking Glass video installation, Muriel Hasbun's multi-layered acrylic painting, and F. Lennox Campello's anti-Castro drawings. Here are their stories.
Juan Downey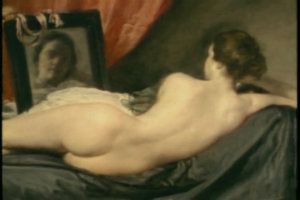 Juan Downey, Stills from The Looking Glass, 1981. Video still. Copyright Juan Downey. Courtesy of the Estate of Juan Downey.
Downey was born to an Irish father and a French and Mapuche mother in Santiago, Chile, in 1940. By the time he earned a degree in architecture, he was already an accomplished painter and printmaker. He moved to Barcelona and Madrid to explore painting, and then to Paris to study printmaking. In Paris, he met fellow Latin American artists, and poet Pablo Neruda, who influenced his interest in political and revolutionary art.
In 1965 Downey moved to Washington, DC, where he began collaborating with local artists to bring art out of the studio and into public space, often involving audience participation. Soon he began incorporating video into his art, purchasing his first video camera, and moving to New York, where he produced The Looking Glass, the inspiration for his exhibition's name.
The Looking Glass is part of a series of videos that focus on masterpieces of Western culture—particularly Velázquez's Las Meninas, which first captured Downey's imagination decades earlier in Spain. The Looking Glass is still considered a work of major importance for twentieth century art, and for new media artists working today.
Muriel Hasbun
Artist and photographer Muriel Hasbun describes herself as born and raised in El Salvador to a Salvadoran Palestinian Christian father, whose family escaped conscription into the Ottoman army at the beginning of World War I, and to a French-Polish Jewish mother who survived the Holocaust by hiding with her family in the Auvergne region of France during World War II.
Hasbun left El Salvador in 1979, at the beginning of its 12-year civil war. One year later, she moved to Washington, DC, to attend college. Hasbun says she made the city her home "by becoming an artist, and by actively trying to bridge the space between here and there. I realized shortly after my arrival in Washington that I experienced life through the prism of my own multivalent, hybrid identity and that I had no choice but to confront my own personal subjectivity: what I called 'the irreconcilable.'"
Hasbun is best known for her photography, paintings, and mixed media installations. She explores her place in the world through her art, which has described in the Washington Post as "an intriguing and beautifully rendered depiction of her own memories of her multi-layered background."
(Left) Julio Sequeira, Hombre cósmico, undated. Acrylic on canvas, 71 x 35 in.
(Right) Muriel Hasbun, Janine, 2011.12.11, San Salvador / Washington, DC, from the series si je meurs/if I die. Video still.

Both images courtesy of Muriel Hasbun and Laberinto Projects and copyright Muriel Hasbun.
F. Lennox Campello
In the 1960s F. Lennox Campello came to the United States as a child. His father had been part of the Cuban Revolution in the 1950s, fighting against the Batista dictatorship. But after their victory, he criticized the new Communist regime, was arrested and sent to a concentration camp, and ultimately left Cuba for the United States as part of what was called "The Freedom Flights."
Campello and his family felt indebted to their new country, and at 17, Campello enlisted in the US Navy. He drew cartoons for the Stars & Stripes newspaper and entered art competitions wherever he was deployed around the world. By the time he retired from the Navy, he was exhibiting in as many as 30 shows a year.
He began writing about the arts, and then opened a small gallery in DC's Georgetown neighborhood. It flourished, and he opened a second gallery. Campello says that Washington has profoundly impacted his artwork, comparing the diversity in the region to what he experienced as a child in Brooklyn, NY. "The DMV offers such a wide array, not only of people, cultures, and places in a small area, but also (and more important to an artist) of opportunities in the visual arts, that it provided fertile soil for my work."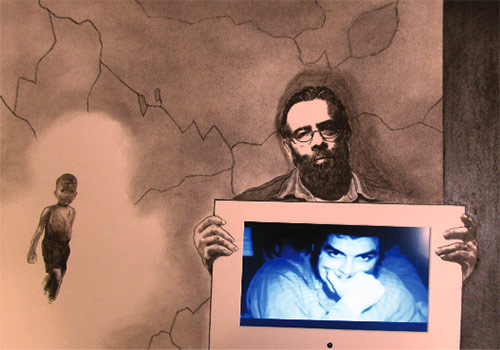 F. Lennox Campello, Cuban by Ancestry, but American by the Grace of God, 2016. Charcoal and Conte crayon drawing with embedded video and digital components, 18 x 24 in. Courtesy of Alida Anderson Art Projects.