In the Community
Making DC's Homeless People Count PhD anthropology student and activist Aaron Howe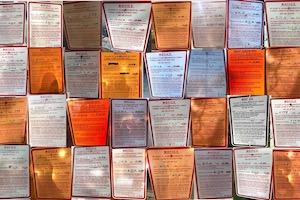 More than 550,000 Americans will experience homelessness on a typical night, according to the Washington Post. Approximately 1.4 million will spend some time in a shelter in any given year, and an additional 200,000 or more will sleep on the streets.
Recent headlines about homeless Americans have focused on the dramatically rising numbers in California cities like San Francisco and Los Angeles. But the problem also hits much closer to home. Although the District of Columbia has experienced an overall decrease in homelessness in recent years, it still has the highest per capita ratio of homelessness in the United States.
DC's homeless population can be difficult to count or neatly characterize, but American University anthropology PhD candidate Aaron Howe (they/them) has embraced this challenge. For their dissertation, they are conducting an ethnography of homeless encampments in the District.
Specifically, Howe is working with homeless encampment residents who live in the underpasses of the NoMa Business Improvement District. The neighborhood, located around DC's Union Station, is one of the city's fastest developing areas that also contains the city's highest concentration of homeless encampments — in other words, it is an ideal place for an anthropologist to deeply examine urban redevelopment and its impacts on marginalized populations.
Daniel Sayers, chair of American University's Department of Anthropology, believes that Howe's work is critically important for raising awareness of the homeless and the deeply impoverished in DC. "Aaron's dissertation is going to be a really solid example of our department's mission to cultivate and do good anthropological work in the service of social justice," he says. "Their interdisciplinary engagement for the past couple years with evictions, oppression, cityscapes, and communities of homeless folks will open some eyes. And, if we are lucky, their work and analysis will enlighten the wider world about what's happening on the ground out there."
Inside the World of DC's Homeless
At first, Howe visited the camps just several times a week, walking around, counting tents, and cautiously making connections with residents. At the same time, they conducted an extensive literature review to see how their early observations fit into the larger literature.
But soon, Howe was visiting the camps five days a week, spending up to eight hours a visit. They started conducting actual interviews and "hanging out" in a more permanent sense. "Much of this initial research was lonely and awkward, and sometimes I would spend the full day sitting on a bench waiting to talk to people," Howe says. "It was hard to explain my research at first, not knowing how to express the importance of this academic venture to people sleeping in tents on the streets."
But Howe persisted. And as their face became more familiar to camp residents, so did their interactions. At first the interviews were straightforward, just sitting around camp with lots of talk. Over time, they got more involved. Howe's first "extended meeting" came when a camp resident needed help filling out forms at a court office. "Following him to the courthouse, I observed the journey he had to take to get there, and also the process he had to go through at the court house: the fees, the stares, the dehumanization that makes daily life harder." Another time, Howe helped a resident after he received a housing voucher and moved off the streets. "I was able to talk to him about the process of getting housing and his changing understandings of home and homelessness once in housing."
Howe soon found themself helping to plan a holiday party under the underpasses, making visits to jails, attending birthday parties, going shopping, and taking part in other routine events in the daily lives of DC's homeless residents. Howe was impressed by the solidarity between camp residents. "Even though disputes were frequent, the residents still bonded over their similar situations, and there was a strong 'we are in this together' attitude," Howe says. "This often resulted in strong bonds of mutual aid and protection."
But much of Howe's experience was darker and emotionally draining. "The streets are violent, and two people I worked with closely ended up dying during my field work," Howe says. "I attended both memorial services."
Encampments, Cleanups, and Chaos
One of the more controversial policies concerning the homeless in DC is "encampment engagements." The District's current policy is to enter homeless camps and clean them every two weeks for health and safety reasons. Homeless people living in the camps must move their tents and all their belongings outside a specified zone, which is marked by signs posted in advance by the city. If anything is left behind, it is thrown away. The city cleans the area, and then people may move their belongings back immediately afterwards.
"On paper, homeless encampment engagements appear as static, organized, and well intentioned," say Howe, who has observed more than 60 cleanups. "However, on the ground, one sees the contradictory and chaotic reality." People in the camps, who may be physically disabled or struggle with mental health issues, must move everything themselves. Items are lost. If someone is not there when the cleanup occurs, all of their belongings may be thrown away. These disruptions make it even harder for homeless people to take the already difficult steps to escape homelessness.
At some point during his work, Howe started to help camp residents move their belongings in preparation for engagements. "This is when I really gained my access," Howe explains. "In many ways, it shifted my position within the community and embedded me deeper into their moral economies (the intersections of work and value outside the traditional market economy). By handling their belongings, by being seen pushing carts full of blankets and bags, by getting yelled at by the police and honked at by cars, and by sweating alongside camp residents, I not only learned the intimate reality of these cleanups, but also improved my reputation among the camps."
Howe acknowledges that clean and safe public spaces should be a priority in any city, but questions the methods used in DC. "Must this come with such a heavy price tag?" Howe wrote in an opinion piece for Street Sense (the District's homeless vendor newspaper). "It's not only the thousands of dollars spent, but also the mental, social and physical health of our homeless residents that suggest we can do better. More trash cans or public restrooms make more sense than cleanups. Affordable apartments would be even better."
In a recent Washington Post piece, co-authored with Patrick Geiger, former intern at the National Law Center on Homelessness and Poverty, Howe turned their anthropological eye towards policy. "The city could also get serious about fixing its broken shelter system," they wrote. "Living outside is dangerous, especially in winter. But many people actively chose to live in encampments as opposed to using the shelter system. Why? Crime, unsanitary conditions and dehumanizing rules and regulations all keep people away from shelters."
Howe found the cleanups excruciating to watch. "I observed homeless people coming back to an empty camp site because all their belongings were thrown away during the cleanup they missed. Some of my hardest nights followed the loss of a tent, saying goodbye to a person, and leaving them on the cold concrete, unable to help as I headed home to go to sleep in my bed."
Urban Redevelopment and the Homeless
Howe stresses that their work so far has focused on collecting data and truly understanding the daily lives of the homeless people who live in tents in NoMa. At the same time, however, Howe has also worked with elected officials, social workers, and advocates to share their research and apply it to the development of practical solutions to mitigate the growing tensions between urban redevelopment and the homeless population. Howe is engaged in public debates, pushing the narrative beyond generalizations that see "the homeless" as a single, homogenous group.
"Moving forward, I believe it is imperative we understand the diverse, fluid, and dynamic nature of homelessness," Howe says. "Otherwise, we are just going to be stuck in the same old feedback loop that in the end will always serve the interest of businesses trying to secure future profit at the expense of the health and safety of homeless individuals."
Howe recently sat on a panel in a townhall-style meeting organized by Street Sense to discuss a new policy declaring the K Street underpass a "tent free zone." The policy was enacted after light art installations were constructed under two underpasses—a classic case, Howe says, of competing interests between businesses and marginalized populations. Howe served as one of five panelists, offering expert testimony on the day-to-day happenings of the camps as well as the District's encampment engagements.
"All tents have been cleared from the underpass, forcing residents into tighter living conditions," Howe says. "I worry that this will set a precedent for further enclosures of protective public spaces where the homeless can camp and signifies the District's interest in protecting its quickly developing areas to make sure future investments continue."
The Path to American University
Howe's anthropological interest in people and communities runs deep. Howe was born and raised in Michigan and attended Grand Valley State University where they earned a BA in anthropology with a minor in archaeology and history. At Western Michigan University, Howe received an MA in anthropology and did historical archaeological work on itinerant workers in the Upper Peninsula of Michigan.
Howe came to American University after working as a professional archaeologist in Wisconsin. They came to AU specifically to work with Professor Daniel Sayers, who was just starting a hobo archaeology project.
"Dan is also a WMU grad, and I first met him when he came and gave a guest lecture in one of my classes," Howe says. "I was instantly attracted to Dan's work, and after looking into AU's anthropology program, with its heavy emphasis on social justice, community engagement, and public outreach, I knew it would be a good fit for me."
An Anthropologist's Changing Roles
Howe began the homeless project as a researcher, but ultimately it was impossible not to also become an advocate for this marginalized community. "Over the course of my research, I learned just how complicated homeless encampments are, intersecting political, economic, social, and ideological relations," Howe explains. "Many political and economic elites search for silver bullet solutions, a dream only compatible with the homeless as an homogenous population. There is no single answer, however, and moving forward I believe it is crucial that anthropologists become more involved with homelessness policy."
As an anthropologist, Howe was able to build unique and multi-faceted relationships with the homeless community. They collected some of the same information as social workers—drug and medical histories, criminal histories, previous housing statuses. But Howe had the big picture too, an understanding of how different histories and abilities constrain people on their pathways to housing.
Howe says that the narrative being constructed by local business owners tells a singular story of drug abuse and mental illness, lumping all camp residents together as a homogenous group.
Howe's goals for understanding the homeless are bigger and bolder. "My work hopes to construct an alternative narrative, showing that camp residents are a diverse group, with unique wants, needs, goals, abilities, and dreams," Howe says. "Most importantly it positions the homeless as capable and rational actors, one in need of access, not criminalization or governance."