In the Community
AU Student Recognized for Fighting Hunger in America Maria Rose Belding wins $12,000 award from the Kilner Group.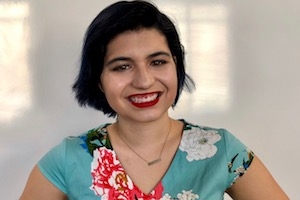 American University student Maria Rose Belding (BS public health '19) believes it should be easy for those with excess food to share it with people who are hungry. This belief inspired her to launch MEANS DATABASE, an online network that connects thousands of food pantries, soup kitchens, and other non-profits with donors of surplus food. Belding is both a co-founder and the CEO of the organization, which is now working in 48 states.
Belding was honored last week at American University with a $12,000 scholarship for her work on MEANS. The award was donated by the Kilner Group, a Maryland real estate company. The mission of the scholarship is to "reward young, exceptional talent for their entrepreneurial spirit, leadership growth, and ingenuity." The scholarship was originally capped at $10,000, but when the company read about Belding's accomplishments, it raised it by an additional $2,000.
Since its inception, MEANS has recovered more than 1,600,000 pounds of food. Its work has been recognized by the Washington Post, National Review, Starbucks and The Daily Show with Trevor Noah. Belding's work has been recognized by the Sodexo Foundation, Prudential Spirit of Community Awards, and the Obama White House (President's Volunteer Service awards in 2014 and 2016), along with the international Clinton Hunger Leadership Prize and L'Oreal Women of Worth award in 2015 .