Social Sciences
Bridging the Gender Asset Gap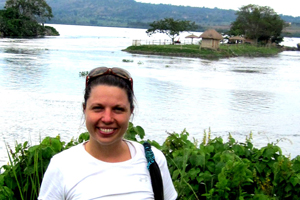 According to a recent international project implemented in Ecuador, Ghana, and India called, "In Her Name: Measuring the Gender Asset Gap," differences in physical and financial asset ownership by sex exist within and between these countries.
Economics doctoral candidate Marya Hillesland has been working for nearly three years with the team, comprised of researchers from American University, the Centre for Public Policy, the Indian Institute of Management Bangalore, University of Ghana, Yale University, University of Florida, and the Latin American Faculty of Social Sciences in Ecuador and has been involved in creating large-scale household-level surveys tailored to each country, which were recently conducted in roughly 9,000 households across the three countries.
The team found that in terms of physical assets, women's gross share of wealth in Ecuador is 52.5 percent, while men's share is 47.5 percent; in Ghana, women's share is 30 percent, while men's share is 70 percent; and in Karnataka, India, women's share is only 19 percent, while men's is 81 percent.
The project aims to better understand the extent of the gender asset gap in the three countries and to look for asset ownership patterns in the household. "It's new, cutting-edge feminist economic research. Even though it seems so simple, looking at the gender asset and wealth gaps is not something that's been done that much in the past," says Hillesland. "Often we focus on income inequality rather than asset inequality, and yet asset ownership can be an important factor in being able to produce an income, especially in developing countries," she adds.
Physical assets can include anything from homes and property to farming tools and cookware. Depending on the type of asset and its use, it can be what Hillesland refers to as "a store of wealth," something that theoretically holds a monetary value and could be sold if needed.
Hillesland says that asset ownership is important to an individual's wellbeing because it can reduce vulnerability to economic hardships. This is especially true for women whose formal ownership of assets can provide financial security in the event of dissolution of their household through divorce or death of their spouse, and can even give them greater input and influence over decisions in the household and community.
However, Hillesland points out that this divide in wealth is variable by country and can depend on the ways in which assets are accumulated and legally held. For instance, while there's a considerable overall gender asset gap in Ghana and India, the same can't be said for Ecuador, where, during marriage, purchased assets are shared almost equally between husbands and wives, rather than individually. She also says that family inheritance is usually divided equally among children, regardless of gender, and remains individually owned during marriage.
These kinds of asset factors, specific to each country, are illuminated and investigated by the project. "The multi-country study allows us to be able to see why certain countries have such a large gap and why others don't; and what policies could possibly be implemented to create change in the countries with large gaps," she explains.
In addition to exploring the trends and scale of the gender asset gap, the team hopes the project will show other researchers and statisticians who conduct preexisting national-level household surveys that these specific gaps can actually be easily tracked over time just by integrating a few more questions into their surveys. "Part of the goal of the project is to demonstrate that there are particular questions you can ask within these household surveys to get this information," says Hillesland. "You only need to ask a small set of questions to get it. It doesn't necessarily need to be the large survey that we have; it can just be added on to existing national-level household surveys."
Hillesland hopes that the research she and the team are doing can make progress in leveling out the gender asset gap that marginalizes individuals and perpetuates poverty and vulnerable living situations. "Basically, I would love to live in a world where there are opportunities for all and there is more of an equal playing field for all people," she says. "This means not just addressing gender inequality, but classism and race issues, and also goes into the development aspect as well."
For more information, visit the "In Her Name: Measuring the Gender Asset Gap" project Website.