Max Paul Friedman Named Interim Dean, College of Arts and Sciences Replacing Dean Peter Starr, who will become Acting Provost for the university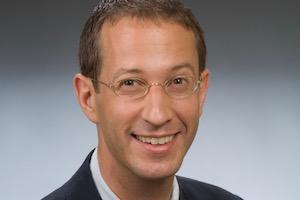 Professor Max Paul Friedman has been appointed to serve as the Interim Dean of the College of Arts and Sciences beginning on July 1, 2020. The announcement was made by American University Provost Dan Myers. Friedman is a Professor of History in the College, where he has taught since 2007, and also holds an appointment as Professor of International Relations in the School of International Service.
Friedman will serve in the place of CAS Dean Peter Starr, who will become Acting Provost for the university.
Starr says that Friedman will be an exceptional Interim Dean. "An outstanding scholar, teacher, and university citizen, Max Friedman truly embodies the American University ideal. He is thoughtful, gracious, deeply compelling, and (yes) wicked smart."
The Best University We Can Be
For the past three years, Friedman has served as the chair of the Committee on Faculty Actions (CFA), an elected body of university faculty that handles matters related to appointments, reappointments, tenure and promotion.
"As chair of CFA, I worked to support our term faculty, accomplished scholars and practitioners in their own right, in receiving greater recognition and voice in university affairs. Fairness and support for all of our faculty will be a top priority as I step into this new role at a challenging time for the university," Friedman said.
Friedman will serve for a one-year appointment. "The question is how do we weather this crisis, and how do we take advantage of the opportunity to be the best university that we can be, advancing our values of inclusive excellence even under health and financial constraints," said Friedman. "And this is very important to me, to do it humanely, always thinking of the people involved, the students, faculty and staff, who are all under tremendous stress from the pandemic, racist violence, and the recession, and who need to have the kind of community that we can build even when we can't all be together physically."
US Foreign Policy Scholar and Teacher
Friedman specializes in twentieth-century foreign relations. He teaches courses on US foreign policy and US relations with Latin America, and a class on social movements and their impact on changing American society since the nineteenth century, offered as part of the AU Core.
For the past six years, Friedman has taught an AU online summer course, "Social Forces that Shaped America," and he has taught an online graduate course in Spanish on US-Latin American relations through the Latin American Council of Social Sciences with colleagues in Argentina and Cuba and students from all over the world.
Prior to joining American University, Friedman was an Associate Professor of History at Florida State University and a Visiting Professor at the University of Cologne. He also served as a Woodrow Wilson Postdoctoral Fellow in the Humanities at the University of Colorado at Boulder.
Books and Awards
Friedman has published three books, Rethinking Anti-Americanism: The History of an Exceptional Concept in American Foreign Relations; Partisan Histories: The Past in Contemporary Global Politics, with co-editor Padraic Kenney; and Nazis and Good Neighbors: The United States Campaign against the Germans of Latin America in World War II, which won the Herbert Hoover Book Prize in U.S. History (2004) and the Alfred B. Thomas Book Prize in Latin American Studies (2004).
Among his many other awards and honors is the Alexander von Humboldt Foundation Friedrich Wilhelm Bessel Award (2019); Distinguished Lecturer, Organization of American Historians (2017); American University Scholar-Teacher of the Year (2014); Fulbright Specialist Award (2014); John Simon Guggenheim Memorial Foundation Fellowship (2103-2014); Stuart L. Bernath Lecture Prize, Society for Historians of American Foreign Relations (2007); German Historical Institute Jürgen Heideking Fellowship, (2003-2004).
Friedman holds a BA from Oberlin College, and an MA and a PhD from the University of California at Berkeley.