Literature
A Pride and Prejudice Sequel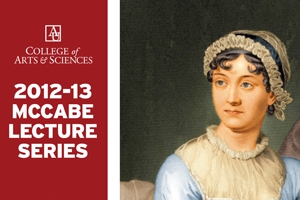 If any author's fans could fairly be called worshipful, Janeites, as acolytes of Jane Austen are known, surely qualify.
Now, devotees of Austen novels and Austen-themed websites, fan fiction, off-the-wall mashups (see Pride and Prejudice and Zombies) and movies based on her books have a chance to meet the author of a scrupulously researched and historically accurate sequel to Pride and Prejudice.
Ava Farmer (pen name of Sandy Lerner) will read from her novel Second Impressions and join in a discussion of the book and all things Austen at the College of Arts and Sciences' McCabe Lecture Series. The reading will be from 7 to 9 p.m. Wednesday, March 27, in the Abramson Family Founders Room in the SIS Building.
"Sandy Lerner's Second Impressions will interest Jane Austen fans who appreciate the richness of Austen's characters and their world," says Peter Starr, dean of AU's College of Arts and Sciences. "We're very pleased that Ms. Lerner chose to come to AU to share her work and her love of Austen."
Second Impressions—as every Janeite knows the title is a riff on First Impressions, the original title of Pride and Prejudice—picks up the story of Darcy and Elizabeth and company 10 years after Austen's novel ends. Written, as the publisher notes, in the language of Austen's time (the author died at age 41 in 1817), the book benefits from historical documents and maps collected at the Chawton House Library and the Centre for the Study of Early English Women's Writing.
The publisher notes that the novel "explores questions of the characters' potential lives beyond the close of the original masterpiece. With the Great French War over and peace come at last, what does England look like in the late Regency? And is there a place for Austen's heroes and heroines in an England greatly changed by industrialization, with a new elite of fortunes made in trade and reformist politics?"
On the surface, it's hard to imagine a less Austen-like figure than Second Impressions author Lerner, who cofounded Cisco, later started Urban Decay cosmetics, and then Ayrshire Farm in Virginia (hence her pseudonym, Ava Farmer—a Virginia farmer).
Lerner has been granted several honorary PhDs for her charitable work and received many awards for her philanthropic and literary contributions as well as for her professional accomplishments, including the inaugural JANE Award from the Jane Austen Society of North America and the Institute of Electrical and Electronics Engineers Award for Lifetime Technical Achievement. She has also been recognized by the Feminist Press and United Animal Nations.
Lerner founded the Chawton House Library and the Centre for the Study of Early English Women's Writing, 1600–1830, in Chawton, Hampshire, England (located in Chawton House, the home of Austen's brother, Edward Austen Knight). Her financial support has helped restore the manor house.
That Austen could capture the imagination of such an accomplished woman is hardly surprising. For Austen is one of those rare literary figures with an enduring cultural as well as artistic presence, notes AU literature professor and Austen specialist Fiona Brideoake.
"Austen, like Shakespeare, is one of the authors that are often referred to as 'hyper-canonical,' an author who has a cultural presence above and beyond or outside of her work," Brideoake says. "You don't have to have read Pride and Prejudice or Hamlet to have some idea of their characters and narratives, and the values they have been held to stand for."
Brideoake cautions readers to guard against the surface conventionality of Austen's novels if they are to appreciate the author's often subversive questioning of society.
"I find endlessly rich and generative the way in which Austen's work gives us a platform to think about gender and authorship; sexuality and social norms; the relationship between the landed gentry and the emerging professional and military class; and the relatively new genre of the novel, which was unfavorably associated in Austen's time with both female readers and writers," says Brideoake. "While a character like Elizabeth Bennet is often considered by contemporary readers to be an archetypal romantic heroine, her intelligence, wit, and physical exuberance would all have been condemned by eighteenth-century moralists, as would have her courtship with Darcy, much of which takes place without chaperones and in secret."
Following the March 27 reading, Brideoake and fellow Literature Department professor Jonathan Loesberg will lead a discussion with Lerner. For more information, visit the McCabe lecture series website or call Mimi Fittig at 202-885-2436.