Science
Winners Announced: $10k Meaningful Change Challenge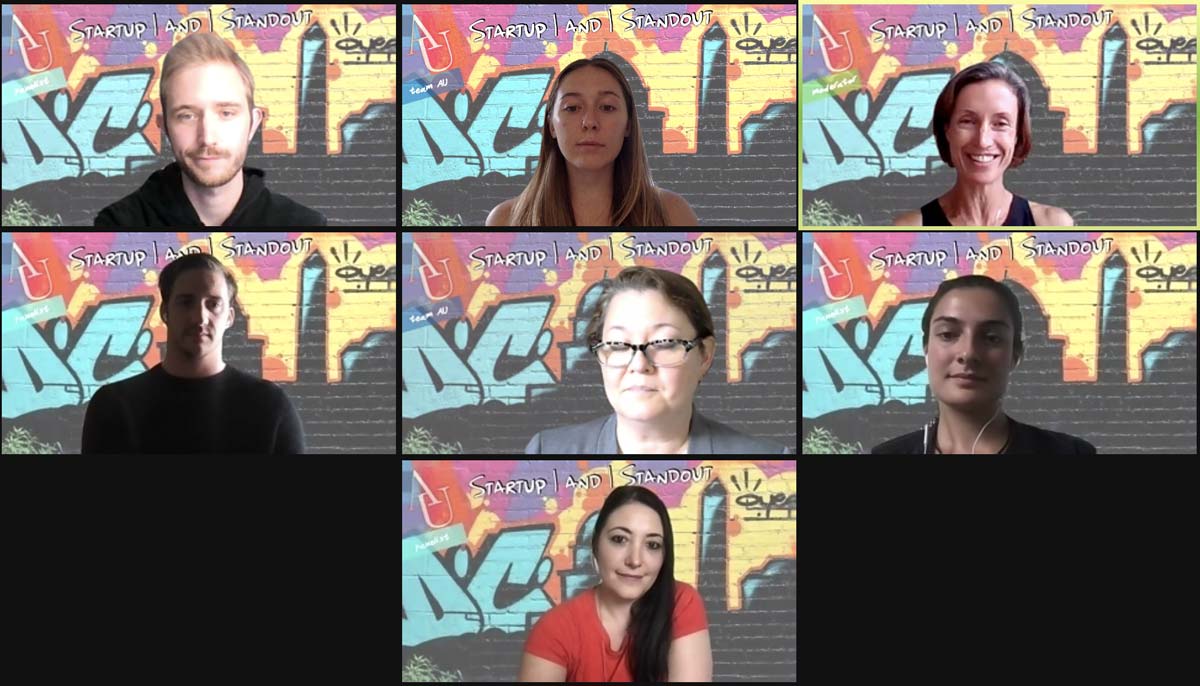 Social Botterfly is a bot that automatically generates social media posts for small businesses... Education PATH revolutionizes education by personalizing each student's needs... Life Guided provides skill development for homeless and at-risk youth.
These are just a few of the winning ideas in American University's Meaningful Change Video Pitch Challenge this summer, cosponsored by Kogod School of Business and the National Science Foundation I-Corps grant (managed by the College of Arts and Sciences). Twelve teams of aspiring student entrepreneurs competed for $10,000 in prizes. They identified real-world problems and developed innovative solutions for meaningful change.  
The official winners of the Meaningful Change Pitch Challenge:
1st Place: Life Guided, Samantha Bendt, (MA international relations and business), Stacey Casas (MA international relations and business), and Abolaji Omitogun (MBA) - $5,000
2nd Place: Education PATH, Veer Sawhney (BS political science) - $3,500
3rd Place: Social Botterfly by Johnene Mcbeth (WCL) - $1,500
The winning project, Life Guided, was developed by Samantha Bendt (MA international relations and business), Stacey Casas (MA international relations and business), and Abolaji Omitogun (MBA). Their project helps youth (ages 16-25) who have aged out of the foster care system and might face homelessness or other major life obstacles. Life Guided puts these youth together with a series of supports, including Big Brother-Big Sister mentor programs, host families that can offer temporary housing, skills development, mental health support, transportation, and more.
"Participating in the challenge was an insightful experience for our team," Bendt says. "We were able to come together to identify a social need and gained great mentorship along the way. It was important for us to make sure our initiative helped one of our society's most underserved groups."  
How it All Worked
Over the course of four weeks, students from across campus prepared for the competition by attending seminars from AU's innovation leaders. Kathryn Walters-Conte, a faculty member in the Department of Physics and director of AU's National Science Foundation I-Corps program, moderated the first panel titled "Launching a Startup Venture." College of Arts and Sciences alum Peter To (BS biology '18) participated in the panel "Initial Funding/Financing for a Startup," while I-Corps team 17minds, including Cael MacEachern (BS economics '22) and Joey Lamborn (BA physics '21), led a Brainstorming for Business session.
For the final round, the top five teams had 72 hours to prepare, script, and practice for their presentations and Q&A sessions. They worked with leadership from the Kogod's Center for Business Communications on their presentation development. The judges of the Final Live Presentation round were experienced entrepreneurs, private equity and venture capitalists, and angel investors from the American University alumni community.
Join our Next Challenge
Congratulations to our winning teams! Coming up this December, the I-Corps program and AUCI will host its second annual winter hackathon. Students from across campus will team up with Computer Science and Data Science to propose solutions in MedTech, EdTEch, and FinTech. For more information about this opportunity contact Kathryn Walters-Conte.