Achievements
Scholar/Teacher of the Year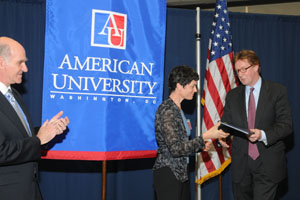 On March 25, 2009, Provost Scott Bass named Mieke Meurs the 2009 Scholar/Teacher of the Year. The award was presented at the annual Faculty Recognition Dinner on Sunday, April 26 to her.
"The Department of Economics is thrilled that Professor Meurs is being recognized for her outstanding teaching of AU students, as well as for her pathbreaking research on the economics of transition societies," says Robert Blecker, department chair and economics professor. 
Meurs is internationally-renowned for her research on applying new institutionalist political economy to the evolution of the region's post-socialist societies. Her work has been externally sponsored through a dozen outside grants. In the classroom, Meurs has a reputation as a dynamic instructor who presents cutting edge micro theory models to her students. In addition, she has served as the economics PhD program director for a record 12 years, advising approximately 100 students.
The university's Scholar/Teacher of the Year award is given each year to the AU professor who best demonstrates a combination of exceptional teaching, concern for students and colleagues, and commitment to high standards of professional and personal life.