First Person
Being Counted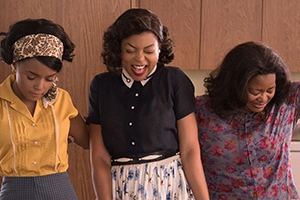 Hidden Figures was a best picture nominee at this year's Academy Awards, and a box office smash, captivating audiences with its depiction of perseverance and triumph. Based on Margot Lee Shetterly's book, it tells the story of three African American women pioneers at NASA: Katherine Johnson, whose calculations helped propel astronaut John Glenn into orbit in 1962; Dorothy Vaughan, the first Black female supervisor at Langley Research Center in Hampton, Virginia; and Mary Jackson, NASA's first African American female engineer.
Even while Black women were helping their country win the Space Race, they had to endure segregation and second-class citizenship. Despite strides made since the 1960s, minority women are still underrepresented in the STEM (science, technology, engineering, and mathematics) fields.
Here, Monica Jackson, an associate professor in American University's Mathematics and Statistics Department, discusses Hidden Figures, refuting stereotypes, and the importance of making math fun.
Were you familiar with Katherine Johnson, Dorothy Vaughan, or Mary Jackson before you saw the movie?
No, I didn't know anything about them. So that was what was fascinating.
This seems like the question many people have been asking: How did we not know this story?
That's what we've been saying, too, in the math community.
Did you find these women personally inspiring?
Yes, definitely. I guess what was more shocking was how much hasn't changed through the years. So watching the movie, some of the same things they went through are still some of the things minorities go through in mathematics. Being mistaken for the help. That happens a lot."
What kinds of obstacles have you faced throughout your life and career?
Being a woman and being a minority in this field is different. There's not many of us. I think the good thing was my family was very supportive. I've always loved math. I knew since I was six years old I was going to do something with math. But it's definitely one of the hardest things that I've done, having to go through this process. But I love it, so I'm going to do it no matter what.
Did you have role models in the math world? Did other women of color help you along the way?
Yes. I ended up going to a historically black college [Clark Atlanta University], which was where I found a lot of my role models in my field. Without them, I definitely would not have made it this far."
Have you mentored any young women of color at AU?
Oh, quite a bit. That's definitely my passion, my way of giving back. I run REU's, Research Experiences for Undergraduates. That's how I got started in doing math research when I was at Clark Atlanta. I was a sophomore, I got put in an REU, and that's how I learned that I loved math research.
How can parents and teachers encourage more minority women to pursue STEM fields?
I would just say support them. I think that's probably the biggest thing that helped me. And encourage them. Show them that math is fun. They are going to be alone. They're going to be isolated. There are definitely going to be a lot of naysayers who think they can't do it. But if they have the strong support system, and family and friends, and someone who truly thinks they can do it, I don't think those obstacles are going to be a problem.
As shown in the film, Katherine Johnson had an aptitude for math at a very young age in West Virginia. Is this something you need to have a knack for early in life? Or can you master it by working at it?
I think, definitely, you can master it by working at it. The key is just having the interest in it, and the love of it, and seeing the beauty in it. If you don't see that, I don't think any talent or any mentor will help you get through it.
You mentioned wanting to pursue math since you were six. Did you also have that flair for this?
I knew I had a love for it at that age. These were my favorite classes all the way through school. In college, I knew I'd major in math. All my degrees are in math. And if there were a degree higher than a PhD in math, I'd be doing that now.
Were there instances where people doubted you in high school, or even when you were younger?
The first one I remember was in elementary school. I was always the only minority in my classes. We were learning times tables, and we were racing in the class. And I was doing so well, the teacher accused me of cheating. So she had me do a special timed test just with her—to redo all of them to make sure that I was doing it right.
It seems like there are fewer culturally-embedded biases in math than you might find in other subjects. As a discipline, is math a universal language?
It definitely is. That's not where the bias comes from. The bias comes from perceptions. So from teachers and other people believing that you cannot do the work. But the work, I think, cuts across all boundaries. Math itself is not color, it's just math. But the bias comes from when I'm turning in work and someone else is turning in work, and how we're viewed differently.
From your online bio, you're described as a "spatial statistician." Can you elaborate a bit on what that entails?
I study data that are correlated. I look for geographic trends in data sets in order to predict, say, disease outbreaks. For example, I do a lot of tracking different cancers, such as breast cancer or lung cancer rates. And I'm trying to see where the next outbreaks are going to be. Or if there are any clusters in certain areas, to find out if there are some environmental causes for certain cancers. And I also work a lot with developing what we call spatial statistics, or these mathematical models, that can actually find big global trends or these outliers.