Science
Finding Motivation within Phi Delta Epsilon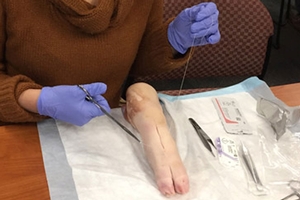 Phi Delta Epsilon is an International Medical Fraternity with a premedical chapter here at American University. The motto of Phi Delta Epsilon is "facta non verba, deeds not words" and we strive to ensure that each of our members embody this in their everyday lives. We aim to create physicians of integrity. Each of our members holds these same values, which is important because these are our future doctors.  
The DC Beta Chapter works to make each our members the best possible applicants for medical school. This is done by providing our members with opportunities to do community service at places like Martha's Table, listening to talks by doctors and other people working in the medical field, visiting medical schools, assisting with preparation for the MCAT, motivating our members to do their best in classes by studying together, and sharing volunteer and research experiences. For instance, Phi Delta Epsilon (PhiDE) invited representatives from the Army to come visit the AU campus and teach students how to suture wounds by practicing on pig's feet. While on campus, Army medics also taught students how to intubate using a model from the USUHS medical school. This year, Dr. Meg Bentley from the Department of Biology spoke to PhiDE members about characteristics of a good mentor and why finding a mentor is important. Dr. Lynne Arneson, the premedical programs coordinator, met with us and explained the medical school application process and timeline to our new members. Our philanthropic organization is Children's Miracle Network, and this year our main fundraiser was the Anatomy Fashion Show, in which we painted models as body systems. Our members also toured the National Institutes of Health, located right up the street from American University, visited the children at Children's National Medical Center, and organized blood drives to benefit Children's. 
Sirah Bah is a sophomore biology major at AU. She has been in PhiDE since her freshman year and is also the Vice President of Finance. When asked about why she joined PhiDE, Sirah says, "Phi Delta Epsilon has completely revolutionized my life in the one and a half years that I have been a member. I have gained peers who are all going through the same thing as I am, and friends who are genuinely interested in seeing my success. Phi Delta Epsilon has helped me create my own path that works for me and taught me how I can make myself the most marketable to medical schools in terms of extracurricular activities and the courses I should take." 
Noy Kaufman is a junior biochemistry major. When asked about why Phi Delta Epsilon is such a big part of her college career, she said, "PhiDE is a support system and a safe community in the larger AU community. We are all ambitious, busy, pre-med students with a lot of commitments and homework, but having one another both in and outside of class has helped us get through exams, homework, and even classes. I am so appreciative of PhiDE and the values it stands for. Being a PhiDE member has given me the opportunity to see incredible people who share the same dreams and goals, and who understand one another." 
The path to medical school is extremely difficult. When asked how she stays motivated, Sirah said, "I believe the most important part of PhiDE that I treasure is the community of individuals who all care for each other, and want to see the success of everyone as well. This innate support system is definitely keeping me motivated in doing my best, and in attempting to lead the best life in order to receive an admission to medical school." 
Whether it is here at American University or at any other school, being a pre-med is very difficult. It consists of a lot of long nights in the library, countless hours studying, doing research and learning more about the medical profession by volunteering and shadowing medical professionals. Mostly, being a pre-med student requires a lot of time, passion and dedication. Phi Delta Epsilon serves as a support system. If it weren't for PhiDE and the premedical program at American University, I know that I wouldn't be as prepared as I am today for the path to medical school. I wouldn't know about the MCAT and application process, where to find research, and places where I would enjoy volunteering. All in all, Phi Delta Epsilon at American University is a great organization that provides peer support and knowledge for pre-medical students who are on the path to medical school.