Research
Comparing Reading Onscreen and in Hard Copy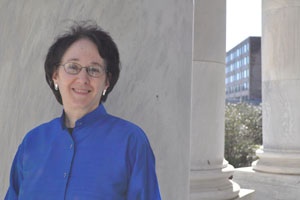 Department of Language and Foreign Studies professor Naomi Baron has spent more than 20 years studying how technology affects the way society uses spoken and written language. "I've written two books that include explorations of historical perspectives on how technologies of the past have affected the way we speak or write or both," she says. "Then, I got interested in more modern language technologies."
In her most recent book, Always On: Language in an Online and Mobile World (Oxford University Press, 2008), she examined the effects that online communication is having on us individually and socially. In one case, Baron investigated the standards of accuracy for Wikipedia versus traditional encyclopedias. And when she did an analysis of talk radio, "I found that people call into talk radio shows for a lot of the same reasons that they post on Wikipedia or blogs," she explains. "Some of it is loneliness and some of it is the desire to have your voice heard, even by people you don't know."
Now, she's investigating reading onscreen as opposed to reading in hard copy. She'll explore these issues in her forthcoming book, which is tentatively entitled Print or Onscreen: How Digital Media are Redefining Reading. "Do we really write differently by hand than when we write online?" she asks. "And do we read differently online than in hard copy? That's what my current study is focused on."
One of the issues Baron is specifically researching is whether university students prefer to read onscreen or in hard copy. "We have a number of assumptions as faculty members that here we have these digital natives who would so much rather read on a screen," she says. "I asked myself two questions. Number one: Is that assumption true? And number two: What are students' perceptions of whether they learn better reading in one platform or another?"
She's collected some data with the help of some of her students, and so far she concludes that, overwhelmingly, students want to read for pleasure and academic purposes in hard copy. They believe they're more likely to get distracted if they're reading onscreen. Moreover, "Students report they're far more prone to multitask if they're reading something on screen rather than reading in hard copy," Baron explains. The partial exception is eReaders that don't have Internet connections.
It's not that multitasking is always something negative, though. "If you're driving a car, yes, you have to be able to get to the gas and the brake and look through the mirrors, though those are all coordinated activities," says Baron. "But that's different from, I'm writing a paper and let me check on Travelocity to see what's the cheapest way I can get to Las Vegas. What I'm interested in doing in my research is understanding more about the reading process."
Baron believes it's important for students to annotate the books they're using in their courses, but many have stopped doing so, especially if they're going to resell the books at the end of the semester. Some students mention that the price of hard copy books can be a deterrent to buying (and keeping) them, even among those who like to read for pleasure. "They feel they don't have financial alternatives," she says. "I don't have an original Van Gogh on my wall—it costs too much. Is cost driving student taste in reading, and then redefining how we teach? The answer, I worry, is yes."
Beginning in September, Baron will begin her tenure as a visiting scholar at Stanford's Center for Advanced Study in the Behavioral Sciences, where she'll work more on her book with input from her colleagues there. "The center gives you the opportunity to talk about your work with highly intelligent people who are pursuing their own lines of research and are very happy to be skeptical of one another's ideas," she says. "This is good, because when you're working on a project, you don't want people to tell you how wonderful it is. You want to know where the holes are."
Baron will spend three non-consecutive months working closely with a cluster of four other scholars pursuing their own research on new media language, and she will also have the opportunity to interact with fellows and scholars within the center who are researching unrelated topics. "I know that whatever I would have written had I worked on my own for this book will be incredibly enriched by my conversations with both the smaller and larger circles of colleagues," she says.