Department Spotlight
New Visiting Israeli Writers Series Hosts Assaf Gavron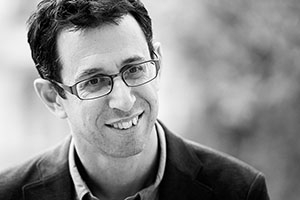 On Thursday, February 23, AU's new Sondra D. and Howard Bender Israeli Writer Series kicks off its second event, Contemporary Writing in Israel: Can you Avoid Politics? The guest speaker is award-winning Israeli author Assaf Gavron, who will discuss his bestselling novel The Hilltop (Scribner, 2014), and explore the complex issues surrounding fiction and politics in Israel.
The event is free and open to the public, and will take place from 7 to 8:30 p.m. in the Butler Board Room in Bender Arena. Books will be available for purchase and signing. RSVP.
Assaf Gavron and The Hilltop
The Hilltop has been applauded by both sides of the political spectrum, and described as a sprawling, daring novel that dismantles the extreme and absurd reality in the Israeli-occupied West Bank. The New York Times Book Review hailed it as "brilliant," and The Wall Street Journal called it "the indispensable novel."
"Gavron represents a distinctly new generation of Israeli writing," said The Times Literary Supplement (London). Gavron has built an international following: his fiction has been translated into German, Russian, Italian, French, English, Dutch, Swedish, Greek, and Bulgarian. He has received the Israeli Prime Minister's Creative Award for Authors, the Israeli Bernstein Prize for The Hilltop, the DAAD artists-in-Berlin fellowship in Germany, the Buch Fur Die Stadt award in Germany, and the Prix Courrier International Award in France.
A New Visiting Writers Series for the College
The new Sondra D. and Howard Bender Israeli Writer Series is sponsored by the College of Arts and Sciences' Center for Israel Studies and Department of Literature. Through the generosity of the Bender Foundation, the series brings influential Israeli writers to campus, allowing students to experience Israeli identity through the eyes of some of its most important cultural voices. The series honors the legacy of Howard Bender and Sondra D. Bender, a longtime American University trustee.
This semester, the series is focusing on the New Generation of Israeli Writers. On February 7, its first event featured Dani Menkin, author, filmmaker, and two-time Israeli Academy Award winner. He discussed the process of creating his newest documentary, On the Map, the uplifting story of Maccabi Tel Aviv's 1977 European Championship—when the Israeli basketball team gave hope to a nation that was still suffering the heartache of the 1972 Olympic massacre, the 1973 Yom Kippur War, and the 1976 hijacking of an Air France flight from Tel Aviv. The series' third speaker is novelist Dorit Rabinyan, who will visit AU on April 20. Her most recent novel, Borderlife, was an immediate bestseller in Israel and awarded the prestigious Bernstein Award for Literature. It became the centerpiece of a political scandal in Israel when the Ministry of Education banned the book from the nation's high-school curriculum.
For More Information
For more information about the series and upcoming speakers, visit the website of AU's Center for Israel Studies.