News
2009 Capstone Research Conference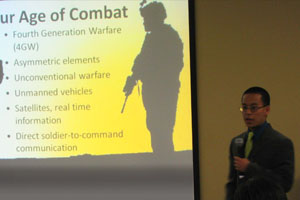 Students in the College of Arts and Sciences (CAS) had a strong showing at the 2009 Honors Capstone Research Conference. Four out of the six winners and three out of the six honorable mentions were from CAS.
The University Honors Program holds its annual Capstone Research Conference each spring to celebrate the academic excellence of its graduating seniors by showcasing a select group of students and their capstone projects. Approximately 20 students from the various schools and departments present their capstones during a 10-minute oral presentation. Another 20 students are selected to present their capstones during the midday poster session.
The Honors Senior Capstone is the culmination of undergraduate Honors work. The capstone allows students to work closely with a capstone advisor to create a scholarly or otherwise significant project, which builds on a student's knowledge and interest in a field of study. Capstone projects may include, but are not limited to, conducting a major research project, writing a novel, preparing a recital or performance, developing a Web site, curating an exhibit, or directing a theater production.
The 2009 Honors Capstone Research Conference Award recipients from CAS are:
 * Erek Alper (CAS: Physics) "Modeling Spacetime Dynamics" Advisor: Prof. Philip Johnson 
* Inna Arnaudova (CAS: Psyc. & SOC: Journ.) "The Relationship between Patterns of Intimate Partner Violence (IPV) and PTSD Symptom Clusters Severity among Low-income African American Women" Advisor: Prof. Michele Carter
* Joanna Holmes (CAS: Psych.) "Psychology in Two Acts: Research, Writing and Performance" Advisor: Prof. Caleen Jennings
Tejaswini Reddi (CAS: Bio.) "The Intricacies of Skin Cancer: How The Tpl2 Gene Enhances Tumorigenesis and Affects Tumor Phenotype" Advisor: Prof. Kathleen DeCicco
The 2009 Honors Capstone Research Conference Honorable Mentions from CAS are: 
Jacob Choi (CAS: Math. & Secondary Education) "Combat Evolved: Lanchester's Laws in Modern Warfare" Advisor: Prof. Ali Enayat 
Claire Lunieski (CAS: Econ. & SIS: Intl. Studies) "Commodity Price Volatility and Monetary Policy Uncertainty: A GARCH Estimation" Advisor: Prof. Martha Starr 
Thais Miller (CAS: Lit.) "Plasticity" Advisors: Profs. Kermit Moyer & Jonathan Loesberg
*Honors Capstone Research Grant Recipient