Social Sciences
Meet New Sociology Professor Nicole Angotti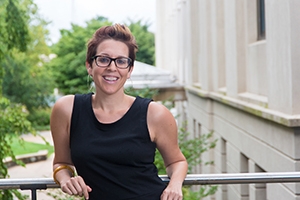 Nicole Angotti is a new assistant professor in the Department of Sociology.
Degrees
PhD sociology, University of Texas at Austin
MA international educational development, Columbia University, Teachers College
BA sociology, University of California, San Diego
Areas of Research
Social dimensions of HIV/AIDS, local experiences with global change, gender and sexuality, field research methods, Sub-Saharan Africa
What initially sparked your interest in sociology?
"The introduction to sociology course I took as an undergrad. Among other great studies, we read Jay MacLeod's, Ain't No Making It, a sociological classic about how social inequality is created and maintained. The book, and the course more generally, piqued my interest in sociology and its unique contribution to understanding pressing social issues of our time."
What honed your interest to your specific areas of research?
"My interest in studying the social dimensions of AIDS was inspired by my work as an HIV counselor in New York City, and by working with communities experiencing the AIDS epidemic first hand. An opportunity to work on related issues in Malawi as a graduate student research assistant, and later in South Africa as a postdoctoral fellow, led to my regional interest in sub-Saharan Africa (a part of the world where HIV prevalence is disproportionately high) and to specific research questions about how local communities experience global HIV health interventions. AIDS is both a social disease and a biomedical one, and the tools of social science are suited uniquely to enhance efforts aimed at prevention and treatment. This drives the passion I have for my work."
What brought you to AU?
"I was drawn to AU's international reach, its student-centered approach to learning, its politically engaged students and faculty, and the research and teaching interests in the Sociology Department and the Center on Health, Risk and Society (CHRS), with which I am affiliated."
What are you hoping to accomplish at AU?
"I hope I can create for students the same draw to sociology that captured my early interest, and arm them with theoretical and methodological tools to ask and answer research questions about which they are passionate and that matter for people's lives. I also hope to contribute meaningful, health-focused social science research that keeps me in active dialogue with government entities, international organizations, funders, and biomedical researchers."