Achievements
Professor Olga Rojer Pens Award-Winning Screenplay Rojer's Buenos Aires explores the German Jewish exile to Argentina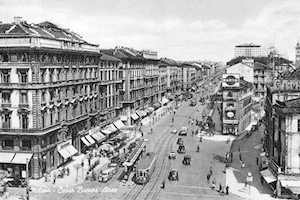 Aspiring screenwriters rarely see their scripts reach the screen. But only one year after penning her screenplay Buenos Aires, Olga Rojer has received both awards and an option agreement with a German production company.
Rojer balances her screenwriting with her roles as an associate professor and director of the German Studies program at AU. "In the academic world, research, creative work, and teaching should go hand in hand," Rojer notes. "As long as it is supported by the institution where you work, it's a fruitful tension."
Buenos Aires represents a melding of Rojer's academic background and her creative side -- the script is based on her early historical research. "During my youth on the island of Curaçao, I heard gripping stories of forced exile by immigrants, many of them European Jews," Rojer says. Her childhood in the Dutch Caribbean sparked her interest in Jewish history, and led her to study the German-speaking exile to Latin America from 1933 to 1945.
While conducting her doctoral research, Rojer was struck by what she saw as a fascinating paradox. During the Nazi regime, more than 45,000 Germans took refuge in Argentina. "But Argentina was also the Nazi paradise of South America," Rojer says. "For the German refugees, Argentina presented a supreme challenge."
Buenos Aires combines an exploration of this paradox with what Rojer describes as a "romantic love story and a veiled commentary about resisting fascism." Adapted from Rojer's book Exile in Argentina 1933-1945, the script portrays the struggles faced by a German exile during the upsurge of Nazi power in Argentina.
After completing the screenplay, Rojer decided to pursue taking Buenos Aires to the silver screen. Over the past year, she submitted the screenplay to dozens of film festivals, both in the US and abroad. The success of Buenos Aires was almost immediate: the script won first place in an international film festival in Berlin, two LA film festivals, and the New Hope Film Festival in Pennsylvania, and was selected as an official finalist and Van Gogh award winner at the Amsterdam Film Festival. Rojer has since signed an option agreement with a German production company, which over the next three years will work to make Buenos Aires a feature film.