Science
AU Showcases Online Nutrition Degree Inaugural Nutrition Education Conference highlights rewarding careers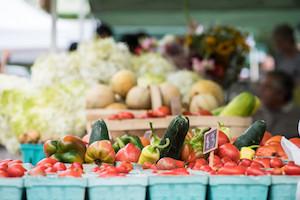 On September 28 and 29, AU kicked off its inaugural Nutrition Education Conference, a two-day event featuring a campus tour and cooking class, career panels, skill-building workshops, professional development opportunities, and a conversation with New York Times bestselling author Tom Rath, who spoke about the importance of creating meaning in life and work. 
The conference, named "Bridging Passion and Purpose," gave attendees an in-depth look at the wide world of nutrition education jobs. It also featured hot topics in nutrition and wellness, along with networking opportunities and advice from speakers working across the field of nutrition education.
In all, more than 35 current students and alumni from AU's online Master of Science (MS) in Nutrition Education attended the conference, which was held at the Don Myers Technology and Innovation Building. "This inaugural conference marked an important milestone for the online Nutrition Education Program as we kick-off our fifth year of educating passionate students to become leaders in the field of nutrition education," said Stacey Snelling, professor and chair of the Department of Health Studies. "With more than 100 alumni and close to 100 students, we are making a real contribution to changing the food landscape through programs and policies that promote healthful eating practices."
Online MS Leading to Rewarding Careers
American University's online Master of Science in Nutrition Education program focuses on the science of nutrition and the educational strategies necessary to impact behavior change at the individual, community, and population level. The advanced degree gives graduates the knowledge and skills to turn their passion into a wide range of rewarding careers.
The need for nutrition education is surging, according to Snelling. Whether it's addressing chronic illness, the obesity epidemic, or the needs of the ever-increasing aging population, highly-credentialed nutritionists are needed across a wide variety of organizations: schools, nonprofits, corporations, government, gyms, food companies, and more. In fact, dietitian and nutritionist jobs are expected to increase 15 percent from 2016 to 2026, much faster than average for all occupations.
The diversity of career options was reflected in the two panels at the conference. The first featured program representatives from a wide range of non-profit organizations including the American Heart Association, the Alliance for a Healthier Generation, DC Greens, and the University of Maryland Extension, Food Supplemental Nutrition Education Program.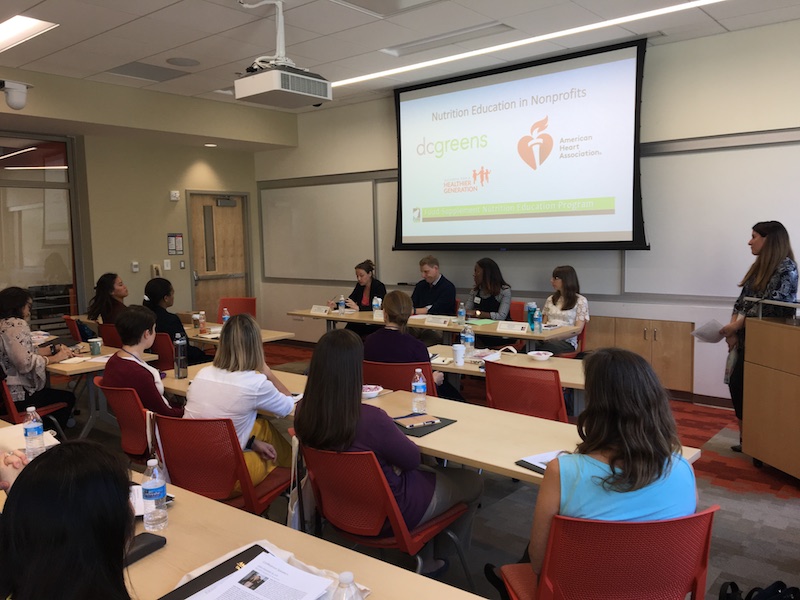 The second panel featured program alumni working across different industries:
Lisa Adukia, Manager of Global Benefits Systems Innovation at Gap Inc.
Katherine Donnelly, Nutrition Education Coordinator at Capital Area Food Bank
Terry LaMonica, Certified Health and Wellness Coach and owner of Blue Birch Wellness
Sarah Nelson, Wellness and Volunteer Coordinator at Friendship Village Retirement Community
T'ara Smith, Community Health Educator at Amerigroup.
Flexible Format, Real-Life Connections
AU offers the nutrition education degree in a flexible online format for students from all over the country and the world. According to Christina Lunsford, manager of Online Partnership Programs, the degree attracts many working professionals who want to change careers.
"We have an incredibly diverse group of students in our program, both in terms of their educational background as well as their professional experience," Lunsford says. "The common thread is their passion for nutrition and promoting health and their desire to make a positive impact in their communities. This conference gave them an opportunity to explore all the different paths they can pursue to turn their passion into a real career."
The participants agreed. "Networking with students, alumni, and established professionals was incredibly valuable and learning how to apply the degree when seeking employment was particularly helpful," said one student. "In an online program, having the opportunity to meet face to face with our peers and mentors was really enlightening and satisfying."