Arts
First Annual Video Art Awards Announced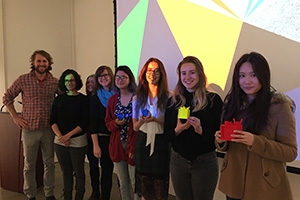 The Studio Art Program hosted the first annual Pam June Naik Video Art Festival at the American University Museum. The festival showcased work created in the past three years by 37 American University current students and alumni from the College of Arts and Sciences and the School of Communication.  
The festival was created in the spirit of Korean-American artist and video art founder Nam June Paik. Paik's work has appeared in major art exhibitions including Documenta 6 and 8, the São Paulo Biennale, the Venice Biennale, and the Whitney Biennial. In addition, several public collections hold work by Paik including the Smithsonian American Art Museum. 
"Paik was the most influential video artist of our times," said Professorial Lecturer of Art Naoko Wowsugi. "My students never fail to be inspired by his work, which initially gave me the idea to host our own mini-festival here at AU."

A New Generation of Video Artists

A majority of the festival's participants were introduced to contemporary video art at AU in the Artist Perspective: Video Art course. The class is typically offered each term and is often taught by Wowsugi. 
"Through video art, students develop the ability to integrate and express their thoughts and emotions," said Wowsugi. "They will understand how the medium functions artistically, socially, and politically. Creating video art enables students to successfully navigate and engage in this media saturated culture." 

First Place Winner 
The first place winner, Boyuan Han (BA studio art '18), was one of Wowsugi's students last semester. "It was my first video art class. I really learned a lot from Professor Wowsugi," Han said. The festival led to other good things for Han. 
"Xin Hui Hong, a company in my hometown, saw my work and really liked it. They offered me an internship in Nanjing, China, for this summer," she said. "The video art festival was a great opportunity to see the different approaches and techniques that others are using, such as stop motion. It gave me different ideas to use in future videos." 

Award Winners 
Winners of the festival were selected by faculty jurors Nancy Daly, adjunct professorial lecturer, School of Communication; Annette Isham, adjunct professorial lecturer, Department of Art; Kim Llerena, instructor, School of Communication; Patrick McDonough, adjunct professorial lecturer, Department of Art; and Naoko Wowsugi, professorial lecturer, Department of Art.  
This year's winners are as follows: 
1st Prize: Boyuan Han (BA studio art '18), Dinner Time (2015) 
2nd Prize: Hannah Eliasoph (BA studio art '17), She's So Sweet (2015) 
3rd Prize: Sarah Rodrigues (BA film and media arts '16), Smoke (2015) 
People's Choice: Sarah Gold (BA film and media arts '19), 3:00 a.m. (2015)