Arts
Audio Technology Director's Award-Winning Film Scores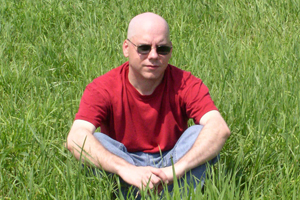 For Professor Paul Oehlers, the art and science of audio technology is not just a career, but also a passion. Oehlers, who has served as director of AU's Audio Technology Program since 2004, has spent a career bringing cinematic art to life through innovative, award-winning scores, and giving students the tools they need to make an impact in the field. "I can remember hearing a synthesizer on an anime show called Star Blazers when I was about six or seven," says Oehlers. "I didn't know exactly what it was but I knew I had to make those sounds."  
While an undergraduate at the University of the Arts in Philadelphia, a scheduling fluke gave Oehlers the opportunity to take several courses with a cohort of film and animation students, even though he was enrolled in the music program. Oehlers jumped at the opportunity to write music for his peers' film and animation projects, which launched an interest and talent that has pervaded his entire career. "The thing that I really enjoy about writing for film and what really makes it different than writing for a recording or a concert hall is that it is truly a collaborative process," says Oehlers. "When you write for a film, it is to help the filmmaker realize their vision."
Oehlers says that his score for the 2004 film Most High was the "most fun for him to write." Most High debuted at the Hamptons International Film Festival, where it won the Golden Starfish Award, the largest independent film award in the United States, before going on to win the Grand Jury Prize at the Atlanta International Film Festival. He has also served as post-production sound supervisor for AU's Investigative Reporting Workshop in conjunction with PBS's Frontline, and he composed the film score for School of Communications professor Carolyn Brown's documentary On the Line. 
"Each director takes a different approach," says Oehlers. "Some give you a 'scratch track,' a similar piece of music that they want the music to sound like. Other filmmakers just give you the movie and let you write different types of music for each scene." Oehlers says he is comfortable with both methods, but that means being flexible. "I always try to give the director as many options as possible," he says, "and usually write several different versions of music for each scene."
Oehlers, however, is also proud of his accomplishments as an educator. "My favorite part of being a professor is having the students come back a few years later and seeing how they are applying what I've taught them," he says. "It makes me feel like I am really having an impact."
Since Oehlers was hired in 2004, the Audio Technology Program has grown from a program of one faculty member and just 30 students to one with several faculty members and over 90 undergraduate students. A master's degree program is launching in fall 2012. 
Oehlers credits the program's success to the hands-on approach he and his colleagues have taken. "Every one of our courses includes a lab portion where students get hands-on experience and really get to learn the equipment," he says. "Other programs merely have their students watch the faculty member run the equipment and take notes. While there is some educational value in observing like that, it would be analogous to learning to drive by watching someone from the backseat."
Oehlers also cites the program's unique origins. The program used to be housed in the Department of Computer Science, Audio Technology, and Physics and is currently in the Department of Performing Arts (DPA). "While we've moved to DPA, I think we've kept that physics identity," says Oehlers, "and have truly incorporated elements of music, communications, physics, computer science, and psychoacoustics into a single discipline."  
With the addition of the master's program this fall, Oehlers hopes the entire program will be enhanced. "I think the master's program will allow us to grow and raise the level of discourse not only among the graduates, but among the undergraduates as well," says Oehlers. He hopes the addition of the master's degree will allow the department to bring in new faculty that know the audio technology world and  many of the field's various elements including film scoring and professional studio work. "A lot of what I learned as an undergraduate and graduate student was outside of the classroom, by sitting in on other professional audio engineer's recording sessions," he says. "Having graduate students that bring new approaches and experiences to our program will allow undergraduates to be exposed to more perspectives."
He also hopes to increase interdepartmental collaboration to give students an even greater idea of how to apply what they are learning. "I'd like to take advantage of the outstanding film program and faculty in the School of Communication to create courses in film sound and film scoring," says Oehlers. "I think that is something that would benefit both programs."
After eight years at AU, Paul Oehlers says the countless students he has served and the things they have gone on to do help him to understand the importance of his work and of the program he has developed. "There are so many students I feel proud to have mentored," says Oehlers. "They're doing everything from running audio for broadcasts of Yankees games to writing music for T.I. to working as AV system designers for recording studios. The success of this program is truly due to our exceptional students."