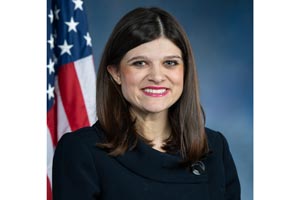 Haley Stevens (BA '05, MA '07) has a passion for Nietzsche and Wittgenstein, 20th century sophists and 19th century continental thinkers. And as a federal government employee who has worked on several national political campaigns, the former philosophy and political science undergraduate recognizes how her two majors complement one another.
"I think it's very important to consider the ideological foundations to the ideas you are looking to put forth so that you always have a foundation to which to return," she says. "It is also always important to understand the ethical implications of what you're working on or the choices you're making as a government employee."
Stevens is currently confidential assistant to the US Treasury's Auto Task Force, which is in charge of financially and organizationally restructuring the automobile industry. She describes her position as "chief of staff-oriented": helping with stakeholder management, legislative requests, daily management issues, and coordination with other federal offices that are responsible for automotive and recovery policy.
She came upon the position in 2009 while working on the Presidential Transition Team, the operation set up during the transfer of power between the Bush and Obama presidencies. Stevens worked on Senate confirmations with a team of people committed to helping the President Elect's newly named cabinet designees through the hearing process.
"I was feeling around for what I wanted to do in administration, something that I would be passionate about," says Stevens.
The Michigan-native worked with United Auto Workers with her home state's Democratic Party in 2006 and became familiar with economic stimulus policy while working for Hillary Clinton in 2008. While working on the transition team, she became connected with Steve Rattner, who was named "auto czar" shortly before the auto task force formed in 2009.
Stevens joined the Treasury following inauguration and worked upwards of 19 hours days under Rattner and senior official Ron Bloom, while they pieced together a response to the crisis. By the end of March, the President issued a viability determination for the auto companies that led to their short term bankruptcies and ultimate revitalization over the next few months.
Now the Auto Task Force primarily monitors the companies and Stevens is also working on several domestic policy initiatives with Bloom, who is now Senior Counselor for Manufacturing Policy.
While pursuing her philosophy master's at AU in 2006, Stevens returned home to Michigan to work on the re-elections of Governor Jennifer Granholm and Senator Debbie Stabenow. After returning to AU to finish her master's degree in 2007, Stevens worked as researcher and briefer for Hillary Clinton's presidential campaign. She then worked for Obama for America and as briefing director for Senator Joe Biden when he ran as Obama's vice president during the 2008 presidential campaign.