Science
Physics "Phestival" Festivities Go Virtual Physics Department's End-of-Year Celebration Held Virtually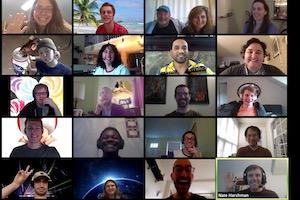 American University's Department of Physics held its annual End-Of-Year "Physics Phestival" online this year.  
"Although we weren't able to enjoy popcorn and food together, we were able to participate in virtual activities, and we kicked off the phestival with awards and an announcement that Associate Professor of Physics Gregory Harry will become the department's new chair," said Joseph Minnich (BS physics '21).
Nate Harshman, professor of physics and outgoing department chair, said that despite the disruptions this year, the department is very proud of its students and their accomplishments. "It was important to celebrate them," he said. "The teaching assistants helped us make the transition to online classes, and our outstanding students demonstrated that academic excellence can take place over the internet."
NASA DC Space Grant Student Achievement Awards
Three students were presented with NASA DC Space Grant Student Achievement Awards, which acknowledge students who have received funding from the DC NASA Space Grant for research and who advance the DC Space Grant mission statement.
• Minnich won for his work as a teacher's assistant for Interactive Device Design. He also completed a DC Space Grant-funded research project with Assistant Professor of Environmental Science Valentina Aquila on air quality in the District of Columbia. 
• David McIntosh received an award for his work on two DC Space Grant-funded research projects. He worked on ThinSat in DaBL (a small satellite prototyping project), and he served on the Mars Recon team at NASA headquarters.
• Shebi Wuss was recognized for his DC Space Grant-funded research with Professor of Chemistry Monika Koniklieva on the synthesis of fragment-based agonists of a Lipoprotein lipase (LPL).
Outstanding Teaching Assistants and Students
In addition, three students were recognized as "Outstanding Teaching Assistants." They are Saaya Miyashiro, Christian Eberhard, and Brandon (Aurel) Npounengnong.
The department also recognized an "Outstanding" student for each year of study:
• Outstanding 1st Year - Jennifer Andrey
• Outstanding 2nd Year - Katie (Shoshana) Apple
• Outstanding 3rd Year- Alex (Taizhen) Zhu
• Outstanding 4th Year - Isabel Fernandez.