Department Spotlight
Poet Ada Limón at AU: A Balance of Softness and Strength Award-winning poet latest in Department of Literature's Visiting Writer's Series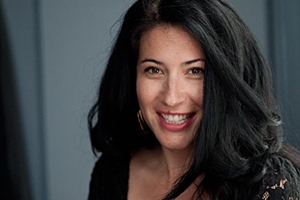 At American University's latest Visiting Writer's Series event on March 1, award-winning poet Ada Limón softly removed the barriers between herself and her audience as she shared her poetry with them.
The Visiting Writer's Series, sponsored by the Department of Literature, gives students and opportunity to come face to face with the writers they've been studying in their classes or reading in their free time—to ask questions and to learn insights about process and intent that can otherwise only be guessed about.
Limón's latest book, Bright Dead Things (Milkweed Editions 2015), was a finalist for the 2015 National Book Award and was named a New York Times Top Ten Book of Poetry. Regardless of her national acclaim and celebrity status among the literature community, Limón didn't take herself too seriously during her reading. Her voice was clear and soothing, welcoming the audience to experience the poems with her rather than watch her perform them. "I'll try to give you some sense of safety," she assured as soon as Program Director Kyle Dargan introduced her. She announced her intent to read no more and no less than ten poems. Her perfect number.
Limón began her reading with "How to Triumph Like a Girl" from her latest book, Bright Dead Things, leaning forward to the audience and grinning, "This one is for the ladies." With each poem, she reiterated that same idea—that these poems were for the people who came to hear her read. When asked after the reading about her construction of form in her writing, Limón said, "[the reader] means a lot to me. I'm thinking about them as I'm writing."
Limón's joy as she was reading was palpable—often a rarity for a poetry reading. From the time she walked to the front of the room, she was cracking jokes, mentioning that she might need to start carrying a box to all her readings so that she could reach the microphone. Each poem was read with a smile, one arm often outstretched beside her as if she was flying, voice lilting with song.
As the reading progressed and Limón found herself in the second section of Bright Dead Things, she paused. "I rarely read from section two," she admitted. This section, focusing on the passing of her stepmother, received the most pre-poem explanation. Limón took the time to tell the story of "The Riveter" before she read it, explaining how it had felt to discover her need to write this poem and what she described as its inspiration: "[My stepmother] had the hardest job to do [when dying]."
Unlike her other poems, "The Riveter" was read without a smile, without an outstretched arm. Through teary eyes, Limón stared directly at her audience: "I'm going to find myself a recovery poem in here."
As the reading drew to a close, Limón chose one of her new poems, "A New National Anthem," in response to what she described as a demand for art to address the current political climate. The poem, available on BuzzFeed, is full of reverence for nature, a call for unification, and—of course—her characteristic simultaneous strength and tenderness.
Limón ended her reading with an impartation of encouragement to her audience of writers, saying, "I don't think any of us walk freely in the world, but we can write freely in the world."