Achievements
Professor David Haaga Wins University's Top Award 2018-19 Scholar/Teacher of the Year Award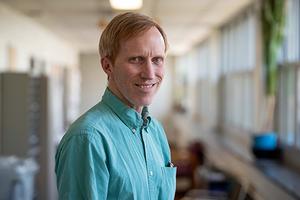 Each year, American University recognizes the exceptional achievements of outstanding faculty, students, staff, and alumni through University Awards. This year, David Haaga, Professor of Psychology and Chair of the Department of Psychology, has won the Scholar/Teacher of the Year Award, the university's highest honor.
Haaga works in clinical psychology, with a special emphasis on the role of cognitive factors (how people think) in the development and maintenance of psychological difficulties. He is known across campus as a prolific author and an inspiring teacher with an incisive communication style and a dedication to mentoring. As one colleague said, "Dr. Haaga captures students' attention with his truly remarkable knowledge of our field, his quick wit, and his perfectly suited sports analogies for any scenario."
Haaga began teaching at AU in 1989, drawn to the university's dual emphasis on scholarship and teaching. "Working with undergraduate and graduate students in the lab, clinic, and classroom ever since," he says, "alongside talented and generous faculty colleagues, has been a great pleasure."
A Remarkable Scholar
Haaga's early research focused on depression, and he was lead author on a highly influential paper that was cited 744 times. He has branched out to issues including smoking cessation and trichotillomania (compulsive hair pulling). He publishes on topics ranging from Type A behavior, to anxiety, to binge eating, to the importance of empirical support for therapies.
In all, Haaga has co-authored more than 130 peer-reviewed journal articles, yielding over 9,300 citations. He has been awarded nearly $1.4 million in grant funding in an investigator role — and he also has reviewed submissions to the NIH and the National Science Foundation among other federal funding agencies.
Haaga has served on the editorial board of 12 journals. He was editor of Behavior Therapy, the flagship journal of the Association for Behavioral and Cognitive Therapies, and associate editor for two other journals, including the prestigious Journal of Consulting and Clinical Psychology. He has co-authored more than 110 presentations at national and international conferences and has earned the distinction of Fellow from esteemed professional organizations, including the Association for Psychological Science and the Association for Behavioral and Cognitive Therapies.
Teacher and Mentor
Haaga is known across campus as a stellar teacher both within and outside the classroom — and as a true mentor. His work in the classroom challenges students to sharpen their abilities to evaluate and build arguments.
He was nominated for the Scholar/Teacher of the Year Award by a group of four colleagues.
"It is extremely rare that a professional has the combination of qualities that Dr. Haaga exemplifies," they wrote. "He is an extraordinarily prolific and rigorous scholar, an inspiring teacher, a generous mentor, a natural leader, a skilled clinician, and just a kind person. He is an outstanding candidate for Scholar/Teacher of the Year."