In the Community
Professor Working with Homeless on Pandemic Front Lines Lissa Ramsepaul has dedicated her life to working with vulnerable people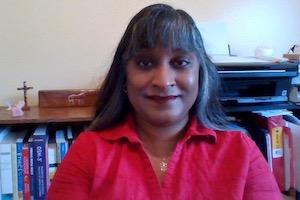 As Adjunct Professor of Psychology Lissa Ramsepaul works with DC's homeless and other at-risk people on the front lines of the COVID-19 pandemic, she still relies on the values and skills she learned during her time at American University.
Ramsepaul likes to say that she "grew up AU." She arrived at American University in 1996 as a first-generation undergrad. In just three years she earned a BA in psychology and a minor in justice and law. After graduation, she stayed at the university to work in the telecom office for six years before leaving to pursue her MSW and PhD at Catholic University's National Catholic School of Social Service. In 2017, she returned to AU — this time as a faculty member.
Ramsepaul believes that the university's commitment to social justice has helped her develop the values that have guided her life and career. It is a career dedicated to helping society's most vulnerable populations. She began when she was just 18 years old, working as a phone crisis counselor. She's worked as the executive director of the Georgetown Ministry, and now works as a nonprofit management consultant. One of her current primary roles is as the clinical director of Street Sense Media, a DC non-profit that provides economic opportunities and case management services to the homeless and other people in need.
During the COVID-19 pandemic, the need for help among the homeless population has grown exponentially, and Ramsepaul is working on the front lines, managing nearly 150 cases a month. "We don't turn anyone away," she says. "If someone comes to our door, we try to help them."
In DC, Street Sense is most commonly known as the organization that puts homeless people to work as newspaper vendors. But it also provides many lesser-known and equally important services. "We help people get housing, find sources of food, build resumes, connect to medical care, sort out conflicts, and more," says Ramsepaul. "We help people work on whatever they need on their paths to get solidly employed."
A Dire Need
Right now, homeless populations are more vulnerable than ever. And they are scared, says Ramsepaul, who explains that people are afraid of getting infected with COVID-19 in shelters and on the street. It's a very valid fear. According to District of Columbia data released this week, 77 people in the city's homeless shelters have tested positive for the virus, more than 200 more have been quarantined, and four people have died.
It's also more difficult than ever for vulnerable populations to get food and medicine. Food banks are closed or have new modified schedules. And the only source of income for many Street Sense clients has been taken away from them — selling newspapers to the public is not permitted during the DC shutdown. Street Sense has purchased back all papers from its vendors for now, but this is only a temporary solution. The paper continues to publish online, but print editions are suspended for the foreseeable future.
Ramsepaul normally helps about 90 people a month, but last week alone she saw nearly 40 people. Most of the staff is working remotely; only she and Street Sense Media CEO Brian Carome are going into the offices for now, along with three part-time staff members who rotate shifts. In addition to helping everyone who walks in with emergency needs, as well as making and distributing face masks, Ramsepaul is helping Development and Communications Director Maddie Cunningham fundraise for grocery gift cards so that no one goes hungry. They are also raising money to support an emergency fund for basic needs such as medication, and to provide eviction prevention measures for Street Sense vendors.
It's challenging work, and especially grueling right now, but the people who know Ramsepaul best at American University are not surprised. "Lissa's work with the homeless exemplifies the spirit of service that marks AU at its best," says Anthony Ahrens, AU Professor of Psychology. Ahrens taught Ramsepaul when she was an undergraduate student, and he remains friends with her today.
Challenges Overcome, A Drive to Succeed
When Ramsepaul first arrived at American University as an undergrad, she had been living in foster care for four years. She received generous scholarships and grants, but she also took out student loans and worked both on campus and off campus during her studies.
Ramsepaul faced challenges that most college students never experience. She knew she needed to graduate in three years, rather than four, because when she turned 21 she would "age out" of the foster care system and her financial assistance would end. So she "crammed together" her junior and senior year and graduated just shy of her twenty-first birthday.
"I wasn't always sure I could do it, but my professors and AU coworkers saw something in me," she says. "The American University community helped me and wrapped itself around me, and this has helped me to go out into the world and do this for others."
Her professors still remember her well. "Lissa was a bright, extraordinarily determined, responsible student who was a true joy to work with," says Ahrens. He is thrilled to have her back at AU, working as a professor. "Coupled with her intelligence and commitment to AU and her students, her experiences have made her a deeply valued mentor," he adds.
For her part, Ramsepaul said that the adversity she has faced in her early life has made her determined to succeed. "I had something to prove," she said. "I wanted people to know that kids in foster care were just like other kids. We were not stupid or lazy. Many of us experienced hardship and trauma, but there was nothing wrong with our brains. We could accomplish great things."
She also says that her experiences at AU taught her the value of being her authentic self, something that's critical when building relationships with vulnerable populations. And she has brought this spirit into the classroom as well — she teaches both intro and advanced forensic psychology classes at AU. "What I've loved most about teaching is helping students to push themselves past the stereotypes of pop psychology and start seeing people as individuals."
Future Dreams
During all of this, Ramsepaul is working towards another dream. It's to open her own social entrepreneurial enterprise, named Home Inc., a coffeeshop that is staffed by 80 percent of people who are economically vulnerable due to leaving homelessness, domestic violence, foster care, or are returning to the community after being released from prison. "It's all about supportive employment," she explains. "It will give people a chance to step back into the workforce, with flexibility and stability. The social entrepreneurial model uses employment and building community as their own interventions to help vulnerable people move towards living their best life."
Again, Ramsepaul looks back to her time at AU. "One of the most special things about American University is its idealism. We believe we can change the world. Sometimes people get caught up worrying about whether this is possible, but at AU, we just go out and do it."