Research
Promoting Physical and Emotional Health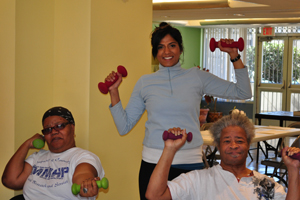 Sabari Veeravalli, a second year graduate student pursuing an MS in health promotion management fell in love with the feeling she got when the participants of the exercise class she ran returned week after week. While Veeravalli also leads fitness classes elsewhere, this class is special for her because it is designed for low-income seniors at Sibley Plaza, a public housing facility just down the street from the United States Capitol.
"The return rate is the best part," says Veeravalli as the residents participating in her class talk and laugh and enjoy their lunches after a tough workout. "They're [the residents] glowing. Many of them feel better than they have in a long time."
Veeravalli became involved with Sibley Plaza when health promotion professor Anastasia Snelling asked her to help conduct research on the emotional and physical health status of residents at Sibley Plaza.  The research is supported by a grant from the TKF Foundation, an Annapolis-based organization that promotes the creation of "open spaces [and] sacred places."
Snelling and Veeravalli interviewed residents at Sibley Plaza about their perceived physical and emotional health status, and asked them what they felt would most benefit their health. The study confirmed that residents had negative perceptions of their health status, and led Snelling and Veeravalli to devise a plan to improve health at Sibley.
According to Snelling, increasing attention is being paid to the effect that area of residence has on individual health and well-being. "The ambience of a space has an effect on people using the space," says Snelling. "In recent years, environments have been redesigned to reduce stress and anxiety." The study at Sibley Plaza uses a pre-post assessment to evaluate individual health status and stress levels before and after the creation of a "sacred space" at Sibley Plaza.
Along with Liz Anne Ganiban, project manager for A Wider Circle, an organization dedicated to alleviating poverty in Washington, DC, Veeravalli and Snelling spearheaded an effort to create a beautiful meditative garden outside of Sibley Plaza. The garden will be accessible to all residents, including those who are disabled, and will give residents a reflective "sacred space" in which to read, garden, or just relax. The garden is expected to be finished by summer.
"Meditative spaces like this have been shown to improve emotional health," says Snelling. "We've gotten overwhelmingly positive feedback for the idea."
Veeravalli believes that the new meditative garden and fitness classes at Sibley Plaza will ultimately pay off exponentially for residents. "Adding some sort of fitness to your schedule improves quality of life drastically," says Veeravalli. "It makes people happier, fitter, more productive, and can even increase longevity."
The impact Veeravalli, Snelling, and Ganiban are having at Sibley Plaza is evident in the smiles and enthusiasm of the residents. Many seem disappointed when class is over and are eager to come back the next week. "I love this class," says one resident. "Best part of my day."