Social Sciences
Reflections on the Public Anthropology Conference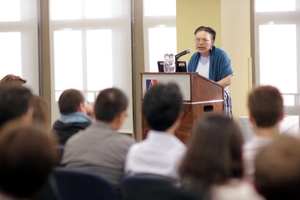 For the past decade, the Department of Anthropology at American University has organized and hosted the Public Anthropology Conference (PAC). Each year, academics, activists, and professionals converge on the AU campus to discuss social justice issues of the day. On October 5 and 6, 2013, over 200 participants came to AU to engage with a variety of issues under the banner of PAC @ 10: Celebrating a Decade of Resistance.  
Contributors from 40 institutions, both local and international, presented research and techniques that address global issues including citizenship, new and renewed activist pedagogies, environmental issues and the transformation of space, race, class, sexuality, ethics, and most importantly, resistance. Scholars and activists offered a variety of techniques for addressing these social concerns. While PAC hosted theoretical discussions, it was also a forum for applied anthropology in keeping with the department's focus on public anthropology. Three panels suggested ways that documentary filmmaking could expose injustice and highlight current successful strategies for resistance to oppression. A number of workshops engaged packed audiences with concrete ways to change how we think about and live in a complicated world.  
This year's conference featured two keynote presentations. On Saturday, PAC welcomed Chap Kusimba, the incoming chair of the Department of Anthropology at American University, and his colleagues, Shomarka Keita of the Smithsonian Institution, and Daniel Sayers of American University. Their lunchtime panel provided an engaging discussion centered on the archaeology of slavery. Each speaker urged the audience to consider multiple ways of understanding slavery and demonstrated how studying remnants from the distant and not-so-distant past sheds light on alternate histories and modern-day versions of enslavement.  
Faye Harrison from the University of Florida gave an inspiring keynote presentation on Sunday, after attending both days of the conference as an active audience member. Harrison's talk focused on the theme of sankofa, an Akan symbol that encourages us to look to the past to know where we are in the present and where we will go in the future. Anthropology needs to embrace sankofa, Harrison argued, in order to mold the discipline to better fit the needs of the contemporary world.  
Both Saturday and Sunday hosted standing room-only sessions. The conference drew an enthusiastic audience of students, professors, activists, and scholars from the D.C. area and around the country. Multiple participants noted that one of the highlights of the weekend was the conference's intimate atmosphere, which aided in discussion and knowledge sharing. Others commented on the engaging and collaborative workshops, which elicited conversations that will continue well beyond the closing keynote. 
The Saturday session concluded with an evening of performances from Ted Samuel, a PhD candidate in anthropology at AU, who performed Tamil folk dances, and Joe Uehlein, an activist who inspired the audience with songs from the labor and environmental movements, of which he has been a part for decades.  
The 10th annual Public Anthropology Conference was a weekend to remember. The success of the conference reinforced the continued need for spaces in which public anthropologists and activists can meet, connect, and share knowledge. It is only fitting that in its 10th year, PAC has gained international recognition, something for which the Department of Anthropology and the larger American University community can be proud. PAC is an important legacy that we hope will continue to thrive for many years to come.