Achievements
AU Wins Prize at National Academy of Medicine Case Competition Developed solutions for mitigating effects of lead poisoning for children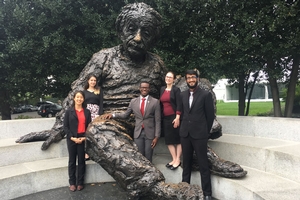 What would you do if you were given a $2.5 million budget and tasked with developing a plan to reduce the negative effects of lead poisoning on children in Washington, DC?
At the National Academy of Medicine's annual DC Public Health Case Challenge, a team of AU students had an opportunity to come up with an innovative—and realistic—plan for this hypothetical scenario. And in doing so, they took home the competition's Practicality Prize and a $1,500 cash award.
The team included Abhishek Patel (BS public health '18), Diane Kim (BS public health and economics '17), Laurel Booth (BS public health and psychology '18), Maile Young (BS public health and literature '18), and Shyheim Snead (BA political science and education studies '18). They competed against undergraduate and graduate teams from Georgetown University, George Washington University, Howard University, George Mason University, and the Uniformed Services University of the Health Sciences.
"Our team developed a very creative and targeted strategy to address the significant challenges posed by this case," said Jolynn Gardner, director of American University's Public Health program. "Their initiative and teamwork throughout the process were exemplary. I am so proud of all they've accomplished."
The Case
The case focused on the intersecting effects of lead poisoning and adverse childhood experiences (ACEs) on DC's youth population. Both have long term impacts on behavioral and neurological development. As exemplified by the water crisis in Flint, Michigan, an individual's exposure to lead poisoning and ACEs is largely determined by systemic inequalities. At the center of these inequalities is structural racism: creating barriers to accessing healthcare, reducing opportunities for economic advancement, and perpetuating oppression across generations.
The AU team's intervention focused on mobile outreach and advocacy in DC's Ward 8. It targeted single mothers and provided blood-lead level testing through a mobile van, as well as follow-up workshops on advocacy for lead-free environments.
 "Our goal was to think critically," said Patel. Her teammate, Young, said that they focused on innovation. "The inequities that sustain poor health outcomes in the most affected communities required us to be innovative in our solution" said Young. "How could we ensure that our intervention benefited the community?"
Benefits of Practicality
The Practicality Prize was awarded to the AU team for "an intervention which addressed structural racism in the DC community and provided a detailed timeline for all five years of the grant period," according to case challenge judges.
"It was an amazing opportunity to be able to apply what we have learned in undergrad to a serious local issue," said Booth.