Achievements
College of Arts and Sciences Honors Retiring Faculty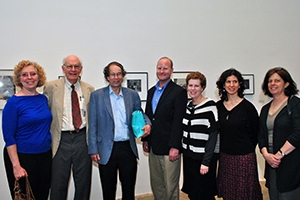 This spring seven College of Arts and Sciences faculty members retired after long and distinguished careers at American University. Together these professors contributed more than 250 years of teaching and scholarship, touching the lives of thousands of AU students:

Richard Breitman, professor of history

David Culver, professor of environmental science

Robert Lerman, professor of economics
Jonathan Loesberg, professor of literature

Peter Mehlert, assistant professor, health promotion

Jeffrey Reiman, professor of philosophy

Carol Weissbrod, professor of psychology  
The professors were honored at a College faculty retirement ceremony on April 13, 2015. Read on for excerpts from Dean Peter Starr's remarks at the ceremony.

Richard Breitman 
"During his four decades of service at American University, Professor Richard Breitman has embodied our ideal of the scholar-teacher. His extraordinary scholarship and excellent teaching have earned him the title of distinguished professor, the university's highest academic rank.  
"Richard's ten books and many scholarly articles range across the fields of German, American, and Holocaust history, consistently drawing new insights from primary historical texts. His work has explored the fate of Weimer democracy in Germany, the development of the Nazi's "final solution," and President Franklin Roosevelt's response to the persecution and mass murder of Jews in Europe. He has told the story of how reliable news of the Holocaust first reached the West. He has uncovered and analyzed indispensable documents on the operations of Allied intelligence during the Nazi era and examined the life of James G. MacDonald, refugee advocate and America's first ambassador to Israel. His most recent book, FDR and the Jews, co-authored with Allan Lichtman, was a New York Times Editor's Choice book, won the National Jewish Book Award in American Jewish History, and was a finalist for the Los Angeles Times Book Prize in History.

"As a teacher, Richard made American University a premier venue for graduate study in German and Holocaust history, as witnessed by his many students now making their academic marks in those fields."

David Culver 
"Professor Dave Culver earned his PhD in biology from Yale in 1970, with a dissertation entitled Analysis of Simple Cave Communities. He began his career at Northwestern University, where he rose to become a professor of ecology and evolutionary biology. He moved to AU in 1987 as a professor of biology, and led the formation of the Department of Environmental Science in 2008.
"Dave has conducted cutting edge research on cave life and, with Harvard University Press, published the definitive book on the topic. He is the author of some 100 journal articles, more than 30 book chapters, and 12 books, and is one of only two AU faculty who can claim to be a Fellow of the American Association for the Advancement of Science. 
"Dave's service to AU has been extensive. He has been the chair of biology, associate dean for academic affairs, and associate dean for science. In this last role, he was instrumental in focusing attention on AU's need for advanced science facilities—a task that brought us to the happy juncture of having two science buildings now in the pipeline." 

Robert Lerman 
"Professor Bob Lerman earned his PhD from MIT and came to AU almost 20 years later as a highly regarded scholar in the field of welfare and labor economics, with a specific emphasis on income inequality. He served as department chair during his first six years here, during which time the Department of Economics flourished. 
"Bob has served in government and in think tanks, most notably as director and fellow of the Labor and Social Policy Center at the Urban Institute. He has published in the top journals in his field, and his policy pieces have appeared in the Washington Post, Wall Street Journal, and many other flagship publications. He has testified before Congress half a dozen times.

"Bob's impact on colleagues and students at American University will be long lasting. Well before most economists, he recognized the critical importance of the financial sector and pressed for a new master's program in financial economics. For that effort, the university honored him with its award for Outstanding Contributions to Academic Development in 1994.
"Bob's most recent professional contribution, however, may have the greatest impact on the American economy. As the creator of the American Institute for Innovative Apprenticeship, he has brought national attention to the need to expand apprenticeships."  
Jonathan Loesberg
"In his 37 years at AU, Professor Jonathan Loesberg has made major contributions to scholarly development in the fields of aesthetics, Kantian philosophy, and the Victorian novel.  
"Jonathan has written three books and translated a fourth. His latest work is a 1,300-page translation into English of Eugène Sue's Les mystères de Paris, co-translated with Carolyn Betensky.

"Princeton University Press has just announced that it is reprinting Jonathan's Deconstruction and Aestheticism, a very rare event for a work of literary criticism. In addition to his highly regarded books, Jonathan has published more than 30 articles, many in the most prestigious journals in his field. 
"His scholarship has been supported by the National Endowment for the Humanities, the American Council of Learned Societies, and the Rutgers Center for the Critical Analysis of Contemporary Culture.  
"Jonathan's service to American University has been long and distinguished. He has worked as chair and vice chair of the Faculty Senate, faculty trustee, department chair for literature, and director of the University Honors Program."

Peter Mehlert 
"As a successful soccer player in his own right, Pete Mehlert holds the signal distinction of having taken one of AU's teams—men's soccer—to the Final Four of the NCAAs. His career as a coach and teacher has brought great distinction to the university and enormous pride to his players and students. 
"During his 43 years at AU, he has been named NCAA Regional Coach of the Year three times (in 1979, 1984, and 1985) and named NCAA Division 1 National Coach of the Year in 1985. He coached the Eagles for 19 years, building up our program to participate in four NCAA tournaments, including two Elite Eights, and a Final Two. He was also first coach of the women's team, which debuted in 1990 with an impressive 13-5-2 record, the program's best to date. 
"In the School of Education, Teaching and Health as well as in the Department of Athletics, he has been a mentor to the faculty and a strong proponent for the work of our campus's student-athletes. He has patiently guided students as they develop as learners and citizens of the world. He also served the DC community, serving as a volunteer for local soccer teams and as coach to local high school teams."

Jeffrey Reiman 
"Professor Jeff Reiman joined the American University faculty in 1970. In 1990, he was named the William Fraser McDowell Professor of Philosophy and Social Policy. His scholarly works in philosophy and criminology are part of the major literature" in those fields. Each year, his works are read and discussed by thousands of students and their professors in hundreds of college and university classes around the US (as well as in Canada and the UK). In recognition of this scholarship, he received the American University Faculty Award for Outstanding Scholarship, Research, and Other Professional Contributions in 1989.  
"Writing in the introduction to the 10th edition of his The Rich Get Richer and The Poor Get Prison, he notes that "For almost 35 years now, The Rich Get Richer and The Poor Get Prison has been raising the issue of economic inequality and asking why aren't the tools of the criminal justice system being used to protect Americans from predatory business practices and to punish those well-off people who cause widespread harm?" 
"Jeff is equally respected as an educator, consistently receiving excellent teaching evaluations in his rigorous courses. In 1995-96, the College of Arts and Sciences recognized his embodiment of the scholar-teacher model by naming him the CAS Scholar/Teacher of the Year."

Carol Weissbrod 
"Professor Carol Weissbrod joined the AU psychology faculty in 1973, shortly after earning her doctorate in clinical psychology from Northwestern University. In the 42 years since, she's been in the vanguard of her field, publishing important research at the intersection of child development, clinical psychology and sex role socialization, in such prestigious journals as the Harvard Educational Review, Child Development, and the Journal of Personality and Social Psychology. In recent years, her work has expanded to the study of gender and ethnicity in relation to sports psychology, as well as of the psychology of parenting. 
"She has taught both undergraduate and graduate students, developing a course on the Psychology of Sex Similarities and Differences that was way ahead of its time. Outside the classroom, Carol has chaired 31 completed doctoral dissertations, helping to create a community of scholars and clinicians highly sensitive to developmental and gender issues.  
"Carol's service contributions to the university have been extensive. She has consulted with the Child Development Center on campus, chaired the Senate Graduate Studies Committee, and served on the Institutional Review Board and the Committee on Faculty Relations. Most notably, she chaired the Department of Psychology for 10 years and served as director of the Clinical Psychology doctoral program from 2000 to 2015, helping to maintain the program's full accreditation and enhance its national reputation."